Courtesy: Image by Free-Photos from Pixabay
The happiest place on Earth may soon have plans in motion to become a COVID-19 vaccine site in Florida.
Florida is one of the nation's hardest-hit states, with over 1.5 million confirmed cases since the start of the pandemic, trailing only California and Texas in total cases. Converting a section of Disney World into a vaccination site that coincidentally sits in one of the hardest-hit counties in the state would make perfect sense, but would they be willing to do it?
The space the theme parks occupy makes a vaccine site appealing and feasible. Couple that with the industrial refrigeration they have, and you can easily accommodate millions of vials for Florida residents.
"It seems like Walt Disney World has the technology to store vaccines, and that is a really important dynamic, but also geographically Orange County sits between Polk and Osceola Counties, and these are all counties of great need," said Florida Rep. Anna Eskamani, 47th district in Orange County.
Currently, the Disneyland Resort in Anaheim, California, is set to become the first "super" COVID-19 vaccination site in Orange County. Disneyland has been closed since the start of the pandemic and has not reopened its doors, unlike Florida's Disney World Resort, which reopened with a limited-phased reservation system on July 11th after months of deliberation and countless layoffs.
Disney World patrons have enjoyed the limited, reservation-based system and have seen historically smaller crowds than they are used to because of the capacity limits in place. Smaller lines and a baggage-check system that may assist in detecting COVID-19 have allowed visitors to come in and out of the parks with ease and safety in mind.
But as cases in the state have risen over the holiday season, the rush to get as many residents inoculated has become an even larger priority, especially those over the age of 65.
The problem with this scenario is that Disneyland in California is closed and Disney World in Florida is open. Meaning, it would be a logistical nightmare to convert a practically, fully-operating theme park with thousands of workers and visitors into a "mega" vaccine hub. Ultimately, the Disneyland site works because of California's scenario, but how would it fare for the Florida resort?
"At the end of the day it is smart for us to look at these types of institutions that might already have some of the vaccination structure in place, and Director [Jared] Moskowitz [Director of Florida's Division of Emergency Management] mentioned some college campuses have this capacity, there are other companies that do," added Rep. Eskamani.
With over 4.3 million adults over the age of 65 in the Sunshine State, a large populace which resides in Central Florida, a vaccine site in Disney World would help expedite the inoculation process.
Disney World has been in contact with state officials and are prepared to support the vaccination rollout effort in any way possible, but has yet to confirm whether or not they would follow Disneyland's efforts.
Are you interested in Florida travel? For stories like this and much more: Florida Insider is dedicated to educating, entertaining, and informing its readers about everything Florida. Easy to read content at the palm of your hands and covering the stories that matter.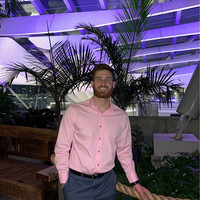 William is a South Florida native with professional experience writing at the collegiate and national news outlet level. He loves fishing, playing soccer and watching sports in his spare time and is a fan of all South Florida teams.