Courtesy: Image by Free-Photos from Pixabay
The happiest place on earth may be giving visitors more reason to start their day happy in an unconventional way.
For years, Disney World patrons have complained about the long lines to get into the theme parks.
Usually, lines create a bottleneck effect in the baggage check portion of the security clearance entry point. Like entering any large-scale event or area, any bag should and must be checked and therefore plays a pivotal role in mitigating and preventing acts of violence.
Disney's World's Epcot theme park may have found a way to streamline those pesky long-lines with a new addition to its baggage check arsenal.
It combines two things essential for customer satisfaction when entering an event—speed and safety—a lot of it.
And with the concern of COVID-19 looming, the traditional method of handling bags has many concerns, but this method eliminates the need for a human to touch your belongings.
Think fast pass but to get into the actual park.
Meet Evolv Express Scanners.
According to the Evolv website, the scanners are the first of its kind in the world.
Evolv Express™ "is the world's first and only touchless security screening solution that meets all of the post-pandemic security screening requirements."
The screening capabilities include but are not limited to detecting weapons via its Evolv Cortex™ AI software program and its thermal temperature screening Evolv TempCheck™ software that will measure elevated skin temperatures in roughly 2-3 seconds after passing through its contactless scanner.
The technology first debuted on Disney property earlier this year at Disney Springs and is now rolling out in the parks.
According to Disney blog Kenny the Pirate, the scanners are currently being rolled out at Disney's Epcot and already present at Disney's Animal Kingdom and Disney's Hollywood Studios parks.
The scanners are capable of scanning 3,600 visitors per hour, which is 10x faster than traditional metal-detectors.
To see a 3D model of the scanner, click here.
The scanners will play an important role when more patrons are allowed to visit the parks. Right now, Disney World is reportedly operating at 25% capacity, so a peak day has yet to be tested.
According to a 2018 study, the Orlando resort mega-giant attracts an average of 58 million people per year. That's almost 160,000 visitors per day.
Magic Kingdom, the world's most popular resort by a mile, brought in a reported 20,859,000 visitors in 2018. This is one of the parks that has not rolled out the scanners yet.
Moving forward, it will be interesting to see how Disney will accurately scan every visitor coming into the resort at the clip Evolv says it can.
So if you plan on visiting Disney anytime soon and you see the scanner, simply walk through. Don't worry about emptying your pockets or purses. The scanner will do the heavy lifting.
About Evolv
Evolv Technology is the leader in human security – providing touchless security screening that ensures safety without sacrificing the visitor experience – making the world a safer place to live, work, learn and play.
The company's products spot concealed weapons and potential virus infection threats using advanced digital sensors and modern artificial intelligence that is incredibly accurate, discrete and delivers three to five times more throughput than older technologies.
Evolv Express™ has earned such industry accolades as the 2020 Edison Awards™, Campus Safety Magazine's 2020 BEST Award, and Campus Security & Life Safety magazine's Secure Campus 2020 Awards. A member of the International Association of Amusement Parks and Attractions, Evolv's customers include hundreds of top entertainment venues, stadiums, large-scale events, cultural landmarks, corporations, hospitals, schools and airports around the globe including Six Flags, Dr. Phillips Center, Lincoln Center, Biltmore Estate, Set Jet, Wynn Las Vegas, Georgia Aquarium, LL Bean and numerous others.
Led by a team of security industry thought leaders with a track record for delivering first-to-market products, the company holds more than 100 patents.
Evolv Express is manufactured in the United States and has been tested, verified, and approved by numerous organizations across the United States.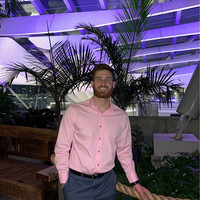 William is a South Florida native with professional experience writing at the collegiate and national news outlet level. He loves fishing, playing soccer and watching sports in his spare time and is a fan of all South Florida teams.