Courtesy: Shutterstock – Photo by Jerome LABOUYRIE
It's no secret that this year has been one filled with ups and downs for just about everyone.
The truth is, the COVID-19 pandemic was something no one ever expected and, least of all, something that was never expected to have the impact it has had so far.
Earlier this year, Walt Disney World Resort theme parks in Orlando, Fla., announced it would be closing its doors temporarily across all theme parks on the property beginning at the end of business closure on Sunday, March 15.
The news came as a shock to the world and marked only the seventh time in the long history of the Orlando resort's tenure that it closed its doors. It was the first non-weather related closure since the 9/11 attacks.
After months of deliberation and countless layoffs due to funding and lack of income, the Orlando resort began a phased reopening on July 11th with a slew of safety precautions, a new reservation system, and capacity limits.
4 months later, Disney CEO Bob Chapek announced last Thursday, November 12., that the parks in Orlando were officially operating at 35 percent capacity, a 10 percent increase from the phased reopening number.
After hosting the company's earnings call late in the afternoon Thursday, it was determined that the corporation's Parks and Experiences sector were down $2.4 billion for the quarter and $6.9 billion for the year.
However, Chapek said he had been encouraged by the demand to visit the Orlando parks and "pleased with how we've become adept at operating under these constraints."
According to Disney executives, open parks, like Disney World, show promising signs for its earnings and the bump in capacity.
"At Walt Disney World, we are also encouraged by the booking trends we are seeing. Park reservations at our reduced capacity limits are already 77% booked for Q1, with Thanksgiving week booked close to capacity," added chief financial officer Christine McCarthy.
The move has many observers concerned, as cases in the state have been on the rise and reportedly exceeded 10,000 daily cases over the weekend, the highest daily totals since its peak in July.
The question that remains to be answered is whether or not Disney can continue to prevent a significant outbreak of the virus with larger numbers at the parks and in hotels.
Are you interested in Florida travel? For stories like this and much more: Florida Insider is dedicated to educating, entertaining, and informing its readers about everything Florida. Easy to read content at the palm of your hands and covering the stories that matter.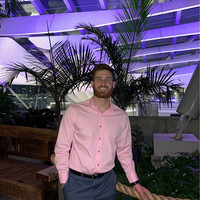 William is a South Florida native with professional experience writing at the collegiate and national news outlet level. He loves fishing, playing soccer and watching sports in his spare time and is a fan of all South Florida teams.