Courtesy: Bill Baggs Cape Florida State Park | Florida State Parks
Occupying thousands of miles of coastline, it's no surprise that the Sunshine State is home to some of the coolest lighthouses in the nation! Florida comes in at number seven in the U.S., with over 25 lighthouses across the state on and offshore.
Lighthouses were first built with the intent to guide boats at sea, marking dangerous coastlines, rocks, coral reefs, and safe entries to harbors and later expanded to aid in aerial navigation for seaplanes and aircraft. Using a system of lamps and lenses to emit light, the towers helped mark sketchy coastlines and river inlets to safely guide maritime pilots to or from their location.
And while most lighthouses serve less of a purpose than when they were first erected hundreds of years ago because of advances in maritime and aviation technology, many serve as historical landmarks and museums for people to visit and explore.
Below, we've made a list of some of Florida's best lighthouses that you should visit on your next road trip in no particular order—
Cape Florida Lighthouse:
Arguably one of Florida's more picturesque spots, this lighthouse sits right on Miami-Dade County's south end of Key Biscayne. Families and tourists alike can visit the sandy beach within Bill Baggs Florida State Park, where the lighthouse sits and enjoy a picnic on the beach or take a swim in some of South Florida's warmest waters. The Cape Florida Lighthouse tower has a brick on coral reef foundation and measures 95 feet (29 m) in height. The lighthouse is also a part of the National Underground Railroad Network to Freedom Trail.
Ponce de Leon Lighthouse:
The Ponce de Leon Lighthouse makes our list for its impressive height. Coming in at 175 feet (53 m) in height, it is one of the tallest in the country and the tallest in the state! Like the Cape Florida Lighthouse, the Ponce de Leon light is open for climbing (if you are brave enough to overcome the 203 steps). The light sits just south of Daytona on the Ponce de Leon Inlet and is one of only eleven lighthouses in the nation to be recognized as a National Historic Landmark.
St. Augustine Lighthouse:
Iconic in name and stature—this is Florida's lighthouse. The St. Augustine Lighthouse is legendary for many reasons, and being an iconic component of the nation's oldest city makes it that much more important. No list is complete without the St. Augustine Lighthouse. Standing on the north end of Anastasia Island, the tower stands at an impressive 165 feet (50 m). The lighthouse is a member of the U.S. National Register of Historic Places and is quite famous for its ghost tours. Check out why the St. Augustine Lighthouse made our list of the spookiest places to visit in Florida.
Amelia Island Lighthouse:
Following the "old and historic" St. Augustine Lighthouse comes the Amelia Island Lighthouse. Coming in as the oldest lighthouse in the Sunshine State, built in 1838. The light currently serves as a private residence but still remains operational. The light's tower sits at 64 feet (20 m) in height and is located near the northern end of the island. The lighthouse makes for a unique stop in Florida's most northeastern spot if you manage to take a road trip up the coast.
Cape Canaveral Lighthouse:
Located inside the Cape Canaveral Air Force Station and standing at 151 feet (46 m) tall, it is the only fully operational lighthouse owned by the U.S. Air Force. Tours of the lighthouse can be scheduled through Canaveral Lighthouse Tours and serve as a unique spot to catch a local spacecraft launch from the Kennedy Space Center just miles away.
Cedar Key Lighthouse:
Coming in as the shortest lighthouse on our list, the Cedar Key Lighthouse tower sits at 28 feet (8.5 m) and is the oldest standing lighthouse on the west coast of Florida. The lighthouse was erected after General Zachary Taylor requested that Cedar Keys and the outermost key where the lighthouse currently sits (Seahorse Key) should at some point have "a lighthouse for the benefit of vessels trading to the Suwannee River." It wasn't until he died one year into his presidency that his request was granted, and the move began to erect a lighthouse on the key.
Hillsboro Inlet Lighthouse:
Hailed by many as the most powerful lighthouse in the world with a light range of roughly 28 nautical miles! It is certainly the most powerful light in the state, and given its placement along the South Florida coast between Fort Lauderdale and Boca Raton, it can guide many through choppy waters and rocky reef. The lighthouse's focal height is 136 feet (41 m), and the light itself sits just a foot below that and was first lit in 1907. The Hillsboro Inlet Lighthouse sits on Coast Guard land and is therefore not available for visiting any time you'd like, but tours are available once a month. To check their tour schedule, visit them by clicking here.
Dry Tortugas Lighthouse:
Also cracking our list is the Dry Tortugas Lighthouse on Loggerhead Key. The lighthouse was taken out of operation in 2015 and sits three miles west of Fort Jefferson, Florida. Only accessible by boat or seaplane, the Dry Tortugas are a gem off of Florida's Keys. The tower sits at a height of 157 feet (48 m) and was once America's most powerful lighthouse when it received an electric lamp in 1931. It is estimated that the lighthouse is the farthest light from a mainland than any in the world.
Alligator Reef Lighthouse:
Alligator Reef has cracked our list because it is one of the handful of Florida Keys Reef lights (not open to the public). Located near the Matecumbe Keys in Florida's Keys, the Alligator Reef light sits roughly 4 nautical miles off Indian Key. The tower height sits at 136 feet (41 m) and is a popular spot for local boaters because of the crystal clear blue waters it is surrounded by.
Whether you choose to visit any of these lighthouses or any other in our beautiful state, make sure you take lots of pictures and climb the lighthouse (if available or open). Lighthouses have long played an important role for our military and maritime safety and serve as a reminder that light shines brightest in the darkness or when needed the most.
Like what you see? Click here for more stories about everything Florida. Florida Insider is dedicated to educating, entertaining, and informing its readers about everything in Florida. Easy to read content at the palm of your hands and covering the stories that matter.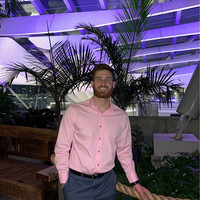 William is a South Florida native with professional experience writing at the collegiate and national news outlet level. He loves fishing, playing soccer and watching sports in his spare time and is a fan of all South Florida teams.