Courtesy: Photo by Joe Robbins/Getty Images
Canadian snowbirds may have missed their opportunity to come down to South Florida for the winter and spring seasons due to the pandemic—but their professional sports teams seem to have the system figured out, eh?
The Sunshine State could soon be home to yet another Toronto sports team, the Toronto Blue Jays. Yes, another one. Currently, Florida is housing the Toronto Raptors of the National Basketball Association in Tampa, sharing the Amalie Arena with the 2020 Stanley Cup Champion Tampa Bay Lightning of the National Hockey League.
According to reports from the Tampa Bay Times, the Toronto Blue Jays have been in talks with Dunedin officials about the possibility of playing out their 2021-2022 Major League Baseball home games at TD Ballpark, their spring training site.
The move will only happen if the Canadian government extends the current international traveler quarantine past the Feb. 21. date. MLB and the Blue Jays were not given an exemption for hosting games at the Rogers Centre last season and therefore had to play out all "home" games at the team's Triple-A affiliate park in Buffalo, New York.
"We would welcome the opportunity if they were to open their season here," Parks and Recreation Director at Dunedin Vince Gizzi said. "It would just be wonderful for our city if they were restricted from going in and out of Canada, that they could play here. … We'd be excited to see that happen, especially in our newly renovated stadium."
Considering spring training for the ball club already takes place at the Dunedin site, which was just recently renovated, the move makes plenty of sense logistically when compared to last season's mess in Buffalo. Toronto had to climb a series of obstacles to get the Buffalo site up and running; relocating training and medical equipment from one stadium to another was no easy feat. However, if the team decides to come down to Florida, that step would be eliminated because it is already outfitted as a primary training site. Plus, the team will already be stateside for its spring training season, also eliminating the back and forth moving.
Before last season's temporary relocation to Buffalo, the organization had considered using the Dunedin site before landing up north. However, this season, minor league baseball is expected to take place, meaning the Buffalo park would be taken up by the affiliate club, providing a path to Florida.
TD Ballpark is also home to a lower-level minor league team, but that league is not expected to start until May at the earliest. In that case, if the Blue Jays were to relocate to Florida, scheduling arrangements can be made to accommodate both ball clubs.
If granted permission to move stateside, the organization would have to seek approval by the league and the players union before assessing playing and spectator problems… Much like the Miami Marlins, the Blue Jays are used to playing in a multi-purpose stadium that has the capability of closing in the event of inclement weather. Unfortunately, TD Ballpark does not provide them that luxury, and Florida spring weather can pose unforgiving conditions at times with the rainy season. Once the team decides to make a move, they must then decide on whether or not they will allow fans at the stadium for the home season beginning April 8.
The neighboring 2020 World Series runner-up Tampa Bay Rays have already announced plans to host fans this upcoming season at Tropicana Field just south of Dunedin, and if that is the case, the Blue Jays would likely follow suit.
While there are no concrete plans in place just yet, Toronto may have to act fast as spring training is around the corner.
Are you interested in Florida sports? For stories like this and much more: Florida Insider is dedicated to educating, entertaining, and informing its readers about everything Florida. Easy to read content at the palm of your hands and covering the stories that matter.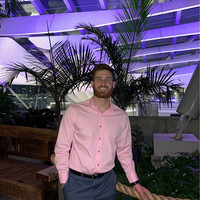 William is a South Florida native with professional experience writing at the collegiate and national news outlet level. He loves fishing, playing soccer and watching sports in his spare time and is a fan of all South Florida teams.