Point Guard Kyle Lowry going up for a layup. Courtesy: Toronto Raptors Facebook
Florida will soon be the new home for the—Toronto Raptors? Well, temporarily.
I guess we can call them the "Tampa Bay Raptors" until they reclaim Toronto, Canada, as their home base. Florida will now be home to three professional basketball teams: the Orlando Magic, Tampa Bay Raptors, and the Miami Heat.
After the Canadian government denied the team's request to participate in the 2020-2021 NBA season, team president Masai Ujiri announced the team would have to find a temporary location to play the upcoming season. This is now the second Toronto based team to be denied play in a professional sports association this year. The Toronto Blue Jays temporarily held their MLB season in Buffalo due to the government's tight COVID-19 related restrictions.
Fortunately for the players, they will already be used to playing in Florida after having played out the remainder of last season in the NBA bubble just down the road at Disney's Wide World of Sports Complex.
"The Raptors worked diligently with public health officials at the local, provincial and federal level to secure a plan that would permit us to play our 2020-21 season on home soil and on our home court at Scotiabank Arena," Ujiri said. "These conversations were productive, and we found strong support for the protocols we put forward. Ultimately, the current public health situation facing Canadians, combined with the urgent need to determine where we will play means that we will begin our 2020-21 season in Tampa, Florida."
Initial talks of relocation were focused on Nashville, Tampa, and Fort Lauderdale as the potential sites. When head coach Nick Nurse asked his players where they would prefer to play, you can assume the consensus was Florida.
"It's freezing down here right now," said Nurse jokingly. "So that's not what I expected. You come here and you think, hey, (it'll be warm). You go out yesterday and it's 39 degrees Fahrenheit."
Although it is a logistical nightmare for obvious reasons, the players might be relieved to play the bulk of the season when Toronto is facing its coldest temperatures and Florida is sitting nice and comfortable, about 40-50 degrees warmer.
The Raptors will call the Amalie Arena their temporary new home, sharing with the NHL's Tampa Bay Lightning.
Per reports by TSN, Tampa emerged as a favorite among the players who played a role in the relocation discussion because of the lack of state income tax and the city's favorable climate. The other potential site in Florida that the team turned down was the BB&T Center in Sunrise, which sits just outside of Fort Lauderdale. It is expected the players chose Tampa over the latter due to the overwhelmingly close proximity to Eastern conference rivals Miami Heat.
"We had a little vote, Nick texted me for sure and I know a few other guys, and just listing what our top options were," said guard Norman Powell. "Tampa was up there. One day I had it as the first (choice) and another time, I had it as second. Fort Lauderdale was first."
The team is currently finalizing the logistics and locale of their new practice facility inside the new J.W. Marriott hotel—just across from the Amalie Arena. They will be turning a full-length ballroom into a practice facility, much like what was done in the NBA bubble.
The team is no stranger to Florida, as they've spent more time in the state than they have in Canada since the NBA pause was lifted back in July. In the meantime, the Raptors will be spending their first two weeks tucked away on Saint Leo University's campus in Pasco County.
"I think Coach Nurse did a great job in just getting the voice of the players and where they'd feel most comfortable and going from there," said Powell via the Tampa Bay Times. "But obviously the team had to get it all worked out with the logistics and everything and making it actually materialize. So I don't know how much the players saying either Fort Lauderdale or Tampa played in what was in play, but they were able to make it work, and I'm not disappointed being out here."
How about that, eh.
Are you interested in Florida sports? For stories like this and much more: Florida Insider is dedicated to educating, entertaining, and informing its readers about everything Florida. Easy to read content at the palm of your hands and covering the stories that matter.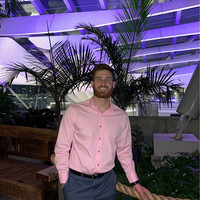 William is a South Florida native with professional experience writing at the collegiate and national news outlet level. He loves fishing, playing soccer and watching sports in his spare time and is a fan of all South Florida teams.