Quarterback Tom Brady and head coach Bruce Arians celebrating after NFC Championship win on Jan. 24, 2021. Courtesy: Stacy Revere – Getty Images
The stage is set for what is likely to be the most-watched television broadcast of 2021—Super Bowl LV.
While this year has certainly brought its fair share of challenges and obstacles, one thing remains in football country; the show must go on. And that is precisely what the National Football League intended since its regular-season started mid-pandemic in September 2020.
Two weeks from now, the whole world will be celebrating the 55th NFL Lombardi Trophy winner in league history—the first of which a participating team will play in its host city stadium. And it just so happens to be a team from the Sunshine State.
On Feb. 7, 2021, the Tampa Bay Buccaneers will host the defending Super Bowl champion Kansas City Chiefs at Raymond James Stadium in Tampa, Florida. Super Bowl LV (55) will be the first time since the Super Bowl era began in 1967 that a participating Super Bowl team will play in their home stadium for the Lombardi. Since the Super Bowl era began, two teams have played in their home city but in opposing team stadiums.
The Tampa Bay Buccaneers defeated Aaron Rodgers' Green Bay Packers in the NFC Championship game Sunday night with a final score of 31-26 at Lambeau Field. Patrick Mahomes' Kansas City Chiefs emerged victorious against the streaking Buffalo Bills in the AFC Championship with a final score of 38-24 at Arrowhead Stadium.
Tom Brady's new team is looking to make their mark in the history books while also clinching a spot in the final game for the first time since 2003. And on the other side of that coin is the NFL's most exciting young phenom in Patrick Mahomes. Arguably the greatest quarterback of all-time (GOAT) in Tom Brady, against the best young quarterback in the league, Patrick Mahomes—a matchup that will signal the potential passing of the torch. The matchup will be the largest age gap between starting QBs in Super Bowl history, 18 years, 1 month, and 4 days to be exact. 
The Tampa Bay Buccaneers have had quite the rollercoaster ride this season: starting with the offseason signing of Brady, surrounding him with top-tier offensive weapons, bringing back his long-time friend and teammate in New England Rob Gronkowski, the signing of the often problematic Antonio Brown, and almost missing the playoffs going into the final stretch of the regular season, to potential Lombardi Trophy winners… that is one ride that is sure to get anyone dizzy.
"It's been a great journey thus far. We put the work in. Guys just embraced everything, really, when [head coach Bruce Arians] got here last year," Brady said after Sunday's game. "There was a lot of great things that were happening, a lot of great young players. I just made a decision. I've loved coming to work every day with this group of guys."
And the defending Super Bowl champion Kansas City Chiefs are looking to win not only their second Lombardi in a row… but their second in a row in Florida. Last year, right before the country shut down due to the COVID-19 pandemic, the Chiefs beat the San Francisco 49ers 31-20 en route to their first Super Bowl since Super Bowl IV (4) in 1970—at Hard Rock Stadium in Miami.
Two of the most exciting offensive teams in the league will face off in sunny Tampa in two weeks and will have the eyes of people across the globe watching them.
As of now, Raymond James Stadium is expected to host 22,000 fans for the Super Bowl game, 7,500 of which are reserved for vaccinated frontline healthcare workers from around the country. All 32 teams have submitted a list of workers from their area to attend the game; however, the majority that will be attending are from the Central Florida and Tampa Bay regions.  
"These dedicated health care workers continue to put their own lives at risk to serve others, and we owe them our ongoing gratitude," NFL Commissioner Roger Goodell said in a statement. "We hope in a small way that this initiative will inspire our country and recognize these true American heroes. This is an opportunity to promote the importance of vaccination and appropriate health practices, including wearing masks in public settings."
Are you interested in Florida sports? For stories like this and much more: Florida Insider is dedicated to educating, entertaining, and informing its readers about everything Florida. Easy to read content at the palm of your hands and covering the stories that matter.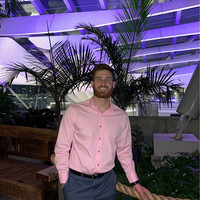 William is a South Florida native with professional experience writing at the collegiate and national news outlet level. He loves fishing, playing soccer and watching sports in his spare time and is a fan of all South Florida teams.