Courtesy: Photo by JOSEPH GUZY- MIAMI MARLINS
"Welcome Kim Ng," read the Marlins Park scoreboard, a historic move marking a new era in professional sports.
A message heard around the world and emphasized throughout the country, Kim Ng's hiring ushers a new age in the sports world and in Major League Baseball.
On Monday, the Miami Marlins officially introduced Ng as the new general manager of the organization, a move that will go down in history, and considered by many as long overdue.
The club initially made the announcement last Friday, making her the highest-ranking female in baseball operations, the first female GM across all major U.S. sports associations, and the second Asian-American GM in MLB history.
H(er)storic.
The move to make Ng the first female GM was not a surprising one, though. Many believe the move has been long overdue, and here's why.
Entering the position with the Marlins, she brings more than 30 years of experience at the professional level with stints spanning three Major League teams: the Chicago White Sox (1990-1996), New York Yankees (1998-2001), Los Angeles Dodgers (2002-2011) and the MLB Commissioner's Office (2011-2020).
At 52, she is more than qualified for the position and has been breaking barriers well before the move to Miami. 
Ng brings quite the résumé along with her sharp baseball IQ to Miami.
Commissioner Rob Manfred said in a statement: "All of us at Major League Baseball are thrilled for Kim and the opportunity she has earned with the Marlins. Kim's appointment makes history in all of professional sports and sets a significant example for the millions of women and girls who love baseball and softball. The hard work, leadership, and record of achievement throughout her long career in the National Pastime led to this outcome, and we wish Kim all the best as she begins her career with the Marlins." 
Before landing the GM job in South Florida, Ng had interviewed for the exact position with other teams such as the Angels, Mariners, Giants, and Padres throughout the years, but to no avail. 
But she knew her time would come, and so did the sports world.
"When I succeeded Kim as the Assistant General Manager of the Yankees almost 20 years ago, I knew that I needed to up my game to match hers — Kim had set a high standard. Her hiring demonstrates what I have long said, that to be a GM in Major League Baseball, you need intelligence, vision, and experience," said Jean Afterman, executive vice president and assistant general manager of the New York Yankees, in a statement Friday. "These qualities of leadership, which Kim possesses in abundance, are gender-blind. It is a tremendous achievement to be the first female GM in Major League Baseball, and I hope young girls (and boys) take notice of this and further understand that there are no limits to their dreams. I congratulate the Marlins — that after a remarkable season, during extraordinary times — they have broken a barrier that needed shattering."  
And boy is she ready to work.
"When Derek told me I got the job, there was a 10,000-pound weight lifted off of this shoulder," Ng said, gesturing to her left shoulder at the introduction, "and then after about half an hour later, I realized that it had just been transferred to this [right] shoulder. I just feel quite a lot of responsibility. I have my entire career. I know that I am quite visible, and I think that's that's always been a big thing for me is to just make my reputation as good as I can make it and let that carry me through. That's even more important now, now that I have this position. You're bearing the torch for so many. That is a big responsibility, but I take it on."
"This challenge is one I don't take lightly. When I got into this business, it seemed unlikely a woman would lead a Major League team, but I am dogged in the pursuit of my goals. My goal is now to bring Championship baseball to Miami. I am both humbled and eager to continue building the winning culture our fans expect and deserve."
And as to what took so long for her to get the elusive position that was until now a male-only position? She didn't seem to mind when asked about it on Monday, saying, "I don't know, but I can tell you that I'm here now."
The Marlins will serve as a perfect fit for Ng as she will work alongside Derek Jeter, whom she has known for over 20 years, and other high-ranking women such as Chief Operating Officer Caroline O'Connor.
Coming off their first postseason berth since winning the World Series in 2003, the Marlins are adding a competent general manager, oh, who, by the way, has three Fall Classic championships of her own in eight postseason appearances throughout her executive career.
Ng will look to build to this young, emerging squad and add firepower in the clubhouse. She will oversee scouting, player personnel, front office operations, and many other positions among her tasks. 
A big congratulations on an achievement that was once unthinkable for a woman in sports, let alone one of minority descent, and a massive welcome to Florida, Kim Ng.
Are you interested in Florida sports? For stories like this and much more: Florida Insider is dedicated to educating, entertaining, and informing its readers about everything Florida. Easy to read content at the palm of your hands and covering the stories that matter.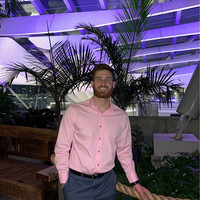 William is a South Florida native with professional experience writing at the collegiate and national news outlet level. He loves fishing, playing soccer and watching sports in his spare time and is a fan of all South Florida teams.