"Fintech" word on digital virtual screen with futuristic city skyline. Hi-tech business concept. Courtesy: Shutterstock – Image by jamesteohart
Miami Mayor Francis Suarez has dreams of transforming the largest city in South Florida into the next Silicon Valley, hoping to pull big-tech and their corporations to Miami to create a new identity for the "Magic City."
Since Mayor Suarez responded to a tweet in early December asking "How can I help?" to a user's suggestion to lure Silicon Valley corporations to Miami, his phone hasn't stopped ringing. His response to the tweet received 2.3 million organic impressions and generated thousands of likes and comments both in favor and against the idea.
Due to heavy coronavirus restrictions in tech-rich regions such as New York and Silicon Valley, business leaders and executives of some of the wealthiest companies in the world have pondered the idea of making a move to Florida. A move to the Sunshine State would give many business owners more capital and flexibility to operate—largely thanks to the mobilization of remote working, favorable climate, and no state income tax…
"It gave me the impetus and energy and incentive to keep tweeting and connecting at a very high rate," said Suarez.
Since his tweet went viral, the mayor has seen a spike in interest for big-tech to make a move to the city, some of which have already acted and done so. One Silicon Valley "elite" hasn't been shy about his thoughts on Miami becoming a potential primary home taking to Twitter to say, "I have met more new interesting people in Miami in 3 weeks than all of 2020 in the Bay Area." That person—Keith Rabois, former tech executive at PayPal. After moving to Miami in late 2020, Mayor Suarez reached out to Rabois to welcome him to the city, and the two connected for the first time.
Suarez has long been a fan of forming his own tech hub in the South Florida community for years, citing the economic advantages it would bring for workers and residents and positioning the city as a long-term site for many companies.
While most tech companies have called New York and California their home due to office hub availability, the coronavirus pandemic has eliminated the need for direct at-work presence and has afforded companies the ability to work remotely. Since the pandemic began, Florida has trended upwards in home sales and population, thanks to lenient COVID-19 restrictions and taxing practices. 
"I think the 'How can I help?' tweet was sort of an earth-shattering moment because people were like, 'Oh finally, an elected official that gets it,' that understands that having companies that are building wealth and creating high-paying jobs is something that benefits a city," added Suarez.
The mayor has also voiced his opinions on cryptocurrency and Bitcoin and believes that the city should invest in the rising currency. 
"We're trying to keep the volume up, understanding that we've captivated the attention of the nation, and we want to keep it," Suarez said. The mayor believes his job now is to keep Miami's new residents permanently while casting a wider net to attract new businesses as well. 
With tech executives pondering the move to Miami and an aggressive tech-forward mayor, Miami may potentially become what Suarez has envisioned for over a decade— the next Silicon Valley. The move would certainly help the economy bounce back after months of travel and tourism losses, restaurant shutdowns: but most importantly, it will elevate the city beyond its glamour for nightlife and beaches. 
Are you interested in Florida business? For stories like this and much more: Florida Insider is dedicated to educating, entertaining and informing its readers about everything Florida. Easy to read content at the palm of your hands and covering the stories that matter.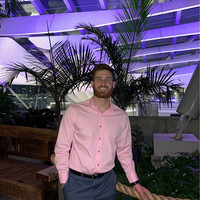 William is a South Florida native with professional experience writing at the collegiate and national news outlet level. He loves fishing, playing soccer and watching sports in his spare time and is a fan of all South Florida teams.