Beautiful Crandon Park Beach located in Key Biscayne in Miami. Courtesy: Shutterstock-Photo by Fotoluminate LLC
Among many things, Florida is known for its year-round beach weather, white-sand beaches, and clear coastal waters. When combined, those three attributes create a blissful scene along Florida's coastline and make them a "must-visit" when passing through the Sunshine State.
With over 1,300 miles of coastline, 663 of which qualify as beaches, it's hard to avoid visiting at least one beach when you visit our beautiful state. Whether you're looking to visit a beach where the Gulf of Mexico and Atlantic Ocean meet, looking for a more secluded beach or a busy beach like a scene out of Baywatch, Florida has it all. 
There are too many beaches to choose from, 189 official beaches to be exact, but we have decided to highlight a unique top 10 list of beaches scattered throughout the state for all types of beach-goers. The list includes some popular, well-known beaches, some secluded and hard to get to beaches, and some that made the list. 
In no particular order, these are our must visit beaches in Florida:
Dry Tortugas National Park – (No specific street address because it's not on land)
Courtesy: Plan Your Visit – Dry Tortugas National Park (U.S. National Park Service) (nps.gov)
– So technically, there is a street address for the Dry Tortugas National Park, but if you visit the street address, you won't actually be on a beach, rather in the middle of Key West. Instead, we are talking about the accessible only by seaplane, private boat, charter boat, and ferry portion of the Dry Tortugas. Yes, this Nationally recognized park is actually located roughly 68 miles west of Key West, Florida. A cluster of seven islands, beautiful coral reefs, sandy beaches, and the largest brick masonry structure in the U.S. in Fort Jefferson, this gem is not accessible by car. Only 1% of the park is actually dry land (roughly 143 acres); the rest is underwater! The Dry Tortugas has some of the best fishing holes around Florida, designated swim areas and boat docks, a lighthouse, and a visitor center that anyone can visit. The Dry Tortugas is considered a part of Monroe County and is well worth the trip if you manage to get out there.
Learn more at Dry Tortugas National Park (U.S. National Park Service) (nps.gov).
Destin Beach – 1481 Scenic Gulf Dr, Miramar Beach, FL 32550
Courtesy:Photo Gallery | Hilton Sandestin Beach Golf Resort & Spa | Sandestin, Florida
– Located just up the shore from the infamous spring break hot spot of Panama City Beach, this beach landed a spot on our list because of its cool sand and tranquil vibes. The sand made up of pure Appalachian quartz stays cool during the summer months, compliments the water by giving it an emerald-blue hue, and radiantly reflects the sun's rays. Sitting on the warm Gulf waters and right on Florida's Panhandle, this beach offers prime location to crossing state lines and enjoying some of the cleanest waters on Florida's coast.
Learn more at Beach Information | Destin, FL – Official Website (cityofdestin.com)
Crandon Park – 6747 Crandon Blvd, Key Biscayne, FL 33149
Courtesy: Shutterstock-Photo by Fotoluminate LLC
– If you're looking for something close to Miami Beach but not quite as crowded. This is the spot to be. Another park landed on the list because of its beautiful views of Key Biscayne and the Atlantic Ocean. While the waters at Crandon aren't as clean as some of the other ones on our list, the location and serenity make up for it. Surrounded by mangroves, dunes, and seagrass beds, Crandon has a unique salty scent that's hard to describe but asserts you are at the beach.
Learn more at – Miami-Dade County Crandon Park
Canaveral National Seashore/New Smyrna Beach – 7611 S Atlantic Ave, New Smyrna Beach, FL 32169 and 4849 Saxon Dr, New Smyrna Beach, FL 32169
Courtesy: Basic Information – Canaveral National Seashore (U.S. National Park Service) (nps.gov)
– Don't let the addresses fool you. While technically they are not the same beach because one is a National Park and the other isn't, they practically share the same coastline and waters. Located just off Titusville and slightly Northeast of Orlando, these beaches made our list because of the views. Cape Canaveral, for obvious reasons, is the home of the Kennedy Space Center. From this beach, you can see rockets fly high into the sky and enjoy the beach at the same time. At New Smyrna, beach-goers can drive their vehicles on the beach! Need we say more? Just drive and go. One of the only drivable beaches in the state and within 30-45 minutes driving distance of the Kennedy Space Center, this spot is golden. Not too busy but not empty, and pretty flat sand helped this spot get on the list.
Learn more at Canaveral National Seashore (U.S. National Park Service) (nps.gov) and New Smyrna Beach, FL – Official Website | Official Website (cityofnsb.com)
Daytona Beach – 126 East Orange Avenue, Daytona Beach, FL 32114
Courtesy: Pixabay-Photo by Yinan Chen 
– While that address will probably take you to the Convention Center and Visitors Area, it's still pretty close to the beach. You can't miss it. Probably the most famous drivable beach in Florida and just minutes from the Daytona 500 track, this Volusia County beach is one of the most popular for tourists for great reason. Bustling waterfront restaurants, 23-miles of flat, sandy beaches, and a killer boardwalk. While Daytona Beach is home to "multiple beaches," they all take the fame from this city's biggest attraction. 
Learn more at Daytona Beach Things to Do, Hotels, Restaurants & Events
Bill Baggs Cape Florida State Park – 1200 South Crandon Blvd. Key Biscayne FL 33149
Courtesy: Bill Baggs Cape Florida State Park | Florida State Parks
– Another park has made it on our list! And this one is home to the historic 1825 Cape Florida Lighthouse. Paddling, picnicking, rollerblading, hiking, fishing, and so much more can be done here. Pair that with sights of the historic lighthouse and prime location along Key Biscayne. This beach is worth visiting for more than just its sand and warm waters, but the atmosphere and history behind it. With many spots to set up camp for a beach day, you can find yourself quite secluded depending on where you are. It is one of the most popular state parks in the Sunshine State and has more than 1.2 miles of Atlantic shoreline.
Learn more at Bill Baggs Cape Florida State Park | Florida State Parks
Siesta Key Beach – 948 Beach Rd, Sarasota, FL 34242
Courtesy: Siesta Beach | Beaches | Sarasota County, FL (scgov.net)
– Often regarded as one of the "best beaches in the United States," and having taken the U.S. News and Trip Advisor's "Best Beach" title many times, this beach is simply that. White, crisp, and cool sands and pristine clear waters, Siesta Key Beach in Sarasota deserves a nod at the top spot. With 8 miles of real estate, Siesta Key has many things to offer for families and couples. Water attractions and lounging are the most popular, but this is more than just a beach; many residents think it's a lifestyle. You can watch sea turtles nest along the shore between May and October and enjoy the warm Gulf waters year-round! Just take our word for it and go!
Learn more at Siesta Key Beach: Welcome to Paradise
Jensen Beach – Martin County, Florida/ Port St. Lucie Metro Statistical Area
Jensen Beach Courtesy: Shutterstock-Photo by  Noah Densmore
– Once known as the "Pineapple Capital of the World," this beach rocks. Nestled between West Palm Beach and Fort Pierce, this small town has some of the best shorelines in the state. With crystal clear waters that are filled with hundreds of aquatic species and resorts that line the emerald tinted waters, Jensen is popular for exactly that. A mix of busy and calm, this walkable shoreline has some of the best sunset/sunrise views in the state.
Learn more at Visit Florida – Jensen Beach
Amelia Island Beach – 32 N Fletcher Ave, Fernandina Beach, FL 32034
Fernandina Beach on Amelia Island, Florida – Courtesy: Shutterstock-Photo by Madison Y Photo
– This small island is home to many beaches; the address above will take you to Main Beach Park in specific, but we are just using it as a general reference cause all the beaches here are amazing! Situated just north of Jacksonville, you get residents at the northernmost point of the state and a mix of southern twang. Not too crowded and a slightly older crowd depending on where you look. But don't let this deter you from visiting this absolute Atlantic water gem. Whichever beach you decide to visit in the area, we promise you won't regret it. More warm waters and clean sand, what more can you ask for? Roughly 82 degrees Fahrenheit year-round and relatively unaffected by major storms, you can find sand dunes up to 40 feet high and 13 miles of pure quartz sand.
Learn more at One Enchanted Island – Amelia Island, Florida
Caladesi Island/Dunedin Beach – Offshore Island Dunedin FL 34698
Courtesy: Caladesi Island State Park | Florida State Parks
– Lastly, we have arrived at our final pick. Caladesi Island State Park. The second only accessible by boat beach on our list, this Gulf Coast island and beach is well worth the trek. With arguably some of the clearest waters on this list and forest-like scenery along the mangroves, it is just across the bay from neighboring beach Dunedin. Roughly 4 miles of clear coastline beaches and squeezes in with some of the water from Sarasota, this place is considered heavenly by residents. Can be full at times, so arrive early!
Learn more at Caladesi Island State Park | Florida State Parks and Our Beautiful Beaches | Dunedin, FL (dunedingov.com)
Remember, there's more than just going to beaches in Florida. We've also covered some of the best state parks and camping grounds as well! And you can't forget the amusement parks! We hope you enjoyed our list, but feel free to visit more than what we have listed!
There's plenty to do here in Florida, and whether you are visiting Florida or a resident that wants to see something new, at Florida Insider we have you covered with travel, history, nature, and more!
Note – State and National Parks do have fees to enter, check the links attached for more information about fees to enter the parks.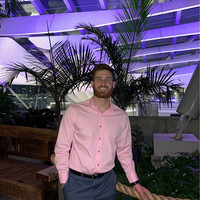 William is a South Florida native with professional experience writing at the collegiate and national news outlet level. He loves fishing, playing soccer and watching sports in his spare time and is a fan of all South Florida teams.