Young girl sitting in front of the fireplace and holding cup of tea in hand on legs and warming. Courtesy: Shutterstock – Image by Emmily
Who would've thought Florida's record-breaking warm 2020 weather would crumble in the final month of December? Probably no one. Thanks to a few consecutive cold fronts towards the end of the year, Florida's excessively hot year was bumped into a second-place podium tie for the warmest year on record. Had it not been for a string of seasonably cool temperatures, Florida was gunning for the top spot going into the final month of the year.
La Niña, deriving from the Spanish term "little girl," is a "natural ocean-atmospheric phenomenon marked by cooler-than-average sea surface temperatures across the central and eastern Pacific Ocean near the equator, the opposite of El Niño—"little boy"— which features warmer-than-average sea surface temperatures in that region," as defined by the National Oceanic and Atmospheric Administration (NOAA).
Historically speaking, La Niña seasons bump Florida's "winter" temperatures up to 4 degrees above normal as it begins to stabilize the jet stream. This phenomenon draws cooler temperatures outwards from the state and traps cold air away from the southern states like Florida. But the tail end of 2020 and beginning of 2021 had different plans for the seasonal front.
"There's a little bit of chaos in the atmosphere right now," said Senior Meteorologist at AccuWeather, Bob Smerbeck.
For context: In December, Florida experienced seasonably low temperatures that cooled the state 1.3 degrees lower than average—clinching the month as the first below-average month in over 2 years.
But despite the cool weather, the Sunshine State has been all over the place. On December 1, 2020, Ocala registered a high of 53 and a low of 33 degrees (Fahrenheit). Fast forward to New Year's Day, Ocala clocked in with a high of 82 and a low of 67 degrees (Fahrenheit)—signaling a 29 and 34-degree swing, respectively, between the highs and lows. Eight days later, on Jan. 9, temperatures in the horse country region were back at nearly identical numbers as the beginning of December. Major see-saw effect.
"Seasonal forecasting is humbling and difficult," said Jonathan Erdman, senior meteorologist at Weather.com. The El Niño Southern Oscillation climate pattern, which includes El Niño and La Niña, is used to make long-term forecasts, and this year hasn't made the process any easier. "The atmosphere is never tidy and straightforward."
After the record hurricane season in 2020, a sudden stratospheric warming event occurred that burst the polar vortex over the poles, pushing colder weather further south than normal. When the counterclockwise rotation of air near the poles [the polar vortex] is deranged and thrown off, the cold air can be pushed further south than intended, causing the cooler weather Florida has been experiencing.
Essentially that push caused cooler air to slip beneath the jet stream block La Niña is known for and resulted in below-average temperatures for the season. Not that many Floridians are probably complaining about… cause any cool front is welcome considering last year's record-high heat.
The fronts have also been coupled with dry air, bringing little to no rain in some portions of the state—not that it is needed.
Fun Fact: 44 years ago to date, Florida had its taste of a winter wonderland when snow was reported as far south as Homestead and out on South Beach.
Like what you see? Click here for more stories about everything Florida. Florida Insider is dedicated to educating, entertaining, and informing its readers about everything in Florida. Easy to read content at the palm of your hands and covering the stories that matter.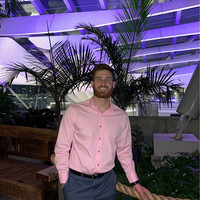 William is a South Florida native with professional experience writing at the collegiate and national news outlet level. He loves fishing, playing soccer and watching sports in his spare time and is a fan of all South Florida teams.