COVID-19 Curfew sign Courtesy: Shutterstock – Image by Adam Calaitzis
Despite Florida being the second-most "open-state" during the pandemic, there are still regulations in place whether people choose to believe it or not.
Take Miami-Dade County, for example. There has been no shortage of the South Florida community gracing headlines for the antics and chaos that hit South Beach during the raid of the Spring Breakers just a few weeks ago.
Any outsider not from Florida can see the footage and photos that have engulfed nationwide news and can rightfully assume that Florida is this wide-open, carefree paradise where residents and tourists can live their lives as if a worldwide pandemic never existed.
However… that shouldn't be the case, because oddly enough, Miami, the place foreigners associate with paradise and lawlessness, has been the antithesis of that very train of thought.
Here's why.
Since July of last year, Miami-Dade County has been under a "nightly curfew" meant to thwart the spread of COVID-19 through late-night activities, including clubbing, bar-hopping, and entertainment.
If you ask any Miami or South Florida resident that spends time in the major Florida county, they'd probably tell you, "Wait, we're still under curfew?" And they would be justified in asking such a question because it hasn't felt like that to them.
After months of following a strict 10 p.m. curfew, the county added an extra two hours in October, moving the current curfew to midnight. Bars, restaurants, clubs, and events across the county have been required to close their doors in accordance with the curfew, while the other 66 counties throughout the state operate in an even more "free" state.
But that will soon change. Beginning Monday, April 12, Miami-Dade County will no longer be under a curfew.
County Mayor Daniella Levine Cava and her administration ruled that upon further consideration and analysis of positivity rates within the county, it is "safe" to move forward with lifting the almost year-long countywide curfew.
"We considered all of the available data, including the 14-day positivity rate, and also hospitalization from COVID and death rates," Levine Cava said during a press conference in downtown Miami. "These have all declined significantly as vaccination for the most vulnerable has expanded and our overall vaccination program has progressed."
According to the county's chief medical officer, Dr. Peter Paige, hospitalizations have been on the downfall over the past month, and people in critical care have also declined.
After months of lobbying with county activists, businesses, and residents in South Florida's most popular county will soon be able to carry on like the rest of the state.
The county mayor also highlighted "streamlined" COVID-19 safety procedures for businesses and residents in the press conference. The eased guidelines will allow county residents to be outside without wearing facial coverings as long as they maintain the suggested social distance of six feet apart.
Whether residents were aware of it or not, their time to resume activities past midnight has arrived.
Make sure you are staying up-to-date with the latest and most important Florida news with Florida Insider. Whether you are interested in business, education, government, history, sports, real estate, nature, weather, or travel: we have something for everyone. Follow along for the best stories in the Sunshine State.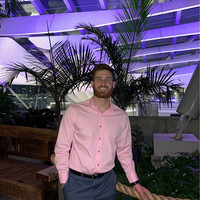 William is a South Florida native with professional experience writing at the collegiate and national news outlet level. He loves fishing, playing soccer and watching sports in his spare time and is a fan of all South Florida teams.