Courtesy: Daniella Levine Cava Facebook/Twitter
On Tuesday night, Daniella Levine Cava declared victory in the mayoral race for Miami-Dade County, now holding the second most powerful executive seat in the state, behind the governor.
The newly elected mayor will become the first female to hold the position in the county's history and the first non-Hispanic mayor named to the job since 1996.
Miami-Dade is Florida's most populous county and the seventh-largest in the country, balancing a budget north of $9 billion. The election day victory was stamped and sealed with an 8 percent margin over her Republican opponent Commissioner Esteban Bovo.
"A short time ago I received a very gracious call from Commissioner Esteban Bovo. I thank you commissioner, you ran a very strong campaign. We've been colleagues on the commission for six years. I greatly admire your passion and commitment to our community and I greatly look forward to working with you as we take on some of the biggest challenges this community has ever faced," said Levine Cava, shortly after receiving notice of her win.
Ms. Levine Cava, a New York native, was first elected in 2014 and re-elected in 2018 to serve as the District 8 Commissioner for Dade County.
She came to Miami in 1980 to join her husband, Dr. Robert Cava, a native who returned home to join his father's medical practice. The couple eventually had two children, Eliza and Edward Cava, who were raised in the city and now live in Washington, D.C., and Philadelphia, respectively.
The mayoral seat's shift comes as a blow to many Cuban-Americans in the county, signifying a shift in local politics long dominated by the aforementioned demographic.
"I'm honored to stand before you as the first female mayor of Miami-Dade County," she said. "This county does believe in compassionate leadership, and we can be a community that takes care of all of its residents."
Are you interested in Florida government? For stories like this and much more: Florida Insider is dedicated to educating, entertaining, and informing its readers about everything Florida. Easy to read content at the palm of your hands and covering the stories that matter.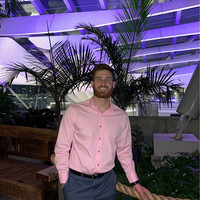 William is a South Florida native with professional experience writing at the collegiate and national news outlet level. He loves fishing, playing soccer and watching sports in his spare time and is a fan of all South Florida teams.