Courtesy: Universal Orlando Resort
The time has finally come for eager Jurassic World fans at Universal Orlando's Islands of Adventure theme park with the opening date reveal of the all-new, high thrills VelociCoaster.
A projected opening date for the long-awaited apex predator rollercoaster addition to the theme park's Jurassic World extension has been set for an early summer opening of June 10.
The Jurassic World VelociCoaster will bring park-goers closer than ever to the prehistoric creatures that roamed the Earth in the form of a high-speed, drastic drop roller coaster that roars through the raptor paddock section of the theme park.
After months of having the secret coaster under wraps, the theme park has finally set the date for one of the most anticipated rides in the Florida theme park system.
While Jurassic World fans will have to wait a little longer for the third installment in the film series, the raptor-themed coaster is expected to hold fans over for the time being.
Here's what riders can expect when the VelociCoaster opens in the summer:
Max speeds reaching 70 m.p.h. on the second launch
155-foot coaster peak height
80-degree drop
Four inversions
A recent trailer released by the park confirms the consistent theming with the film series, including raptor run-ins with the star-raptor, Blue, from the film series.
The thrilling experience was created in a joint partnership with Universal Pictures, Amblin Entertainment, and the Universal Creative team. Riders will race through waterfalls and caves that simulate the raptor compound in the films.
Jurassic World: VelociCoaster will become the fourth roller coaster at Islands of Adventure and the seventh in the Universal Orlando park system. It is hailed as "a new species of roller coaster."
Are you interested in Florida travel? For stories like this and much more: Florida Insider is dedicated to educating, entertaining and informing its readers about everything Florida. Easy to read content at the palm of your hands and covering the stories that matter.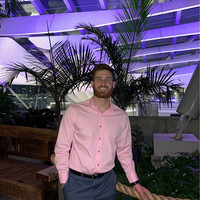 William is a South Florida native with professional experience writing at the collegiate and national news outlet level. He loves fishing, playing soccer and watching sports in his spare time and is a fan of all South Florida teams.