Outside view of E11even Nightclub in Miami – Courtesy: Shutterstock-Image by Blueee77
Leave it to a 24/7 mega-club in Miami to be the first major nightclub in the United States to accept the popular Bitcoin (BTC) cryptocurrency as a method of payment when entering for a night of fun.
E11even Partners hospitality group announced plans earlier this week that patrons will soon have the option to purchase drinks, tables, club access, and memorabilia with an accepted form of cryptocurrency.
The group has partnered with a cryptocurrency processing business that will authorize and accept multiple currencies within the blockchain, such as Bitcoin (BTC), Bitcoin Cash (BCH), Dogecoin (DOGE), Ripple (XRP), and more.
The downtown Miami club has made waves in the nightclub community since its opening in 2014 and has hosted an elite lineup of artists and events during Miami Music Week, New Year's Eve, Halloween, and more throughout the years.
E11even is commonly visited by A-list celebrities and is a hotspot for locals and tourists willing to spend the big bucks on a night out in the Magic City.
According to the club organizers, the move to accept cryptocurrency as an optional method of payment would be the first of its kind stateside. Traditional payment methods will also still be accepted.
"With the tremendous growth & relevancy of Cryptocurrency coupled with Mayor Francis Suarez leading the charge for Miami's tech boom, we felt it made sense to introduce Cryptocurrency as an option to our guests to pay for their night out," Dennis DeGori, Creator and CEO of E11even Miami, said in a news release. "E11EVEN is dedicated to always staying ahead of the curve, and we believe Cryptocurrency is here to stay."
The tech-hub nod comes as a push to catapult the South Florida scene to the top of the big tech cities landscape list.
"Bringing services and amenities that cater to our cutting edge clientele is of uber importance (to us), and we're seeing an increasing trend of clients wanting to use their Cryptocurrency as a form of payment. We believe nightclubs allowing Bitcoin as payment will soon become a nightlife industry norm, and we're excited to be the ones paving the way," said Gino LoPinto, Operating Partner of E11even Miami.
Aside from having the option to receive crypto payments, the nightclub will also be able to retain the currency without having to buy, own or manage the coins themselves. In other words, E11even will be able to process the payment without having to buy and hold extra coins as bankroll.
E11even hopes the decision to accept the coins will entice guests involved in Bitcoin to use it as an alternative method of payment if they choose to do so.
Like anything, this move comes with risk and high volatility. As of the posting of this article, BTC is trading just over $63,000 per coin. Cryptocurrency has gained a lot of steam in the past few months among retail traders, with certain coins surging in excess of 1000%.
Florida has been slowly migrating towards the digital coin realm and is looking to find ways to evolve with it. E11even will certainly play a huge role in the way digital currency is accepted and viewed in finance.
Make sure you are staying up-to-date with the latest and most important Florida news with Florida Insider. Whether you are interested in business, education, government, history, sports, real estate, nature, weather, or travel: we have something for everyone. Follow along for the best stories in the Sunshine State.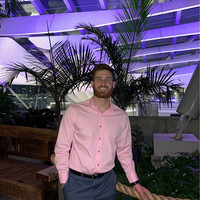 William is a South Florida native with professional experience writing at the collegiate and national news outlet level. He loves fishing, playing soccer and watching sports in his spare time and is a fan of all South Florida teams.