Courtesy: Image by LUM3N from Pixabay
Camping is one of those activities that you either love or hate. There is no in-between, and understandably so. Camping involves physical labor to prop up/build tents, cook your own food, live outdoors, and operate with no cellphone signal, to name a few things.
And for that reason, the thought and allure of camping is just not there for many people. But for many others, camping is a time where they can destress and detach themselves from the 'real world,' have meaningful conversations with friends and families, be adventurous and experience something new.
Here in Florida, camping is quite popular, especially in the central portion of the state. And today, we are going over some of the can't miss camping spots in Lake County.
📍: 7305 US Hwy 27, Clermont, Florida 34714
Whether you're looking for the old school rugged style of camping or a more modern and hassle-free style, this campsite has something that will make non-campers want to become campers.
Starting with the extracurricular activities.
The park offers something for everyone in the family, ranging from paddleboarding to hiking, biking, and horseback riding.
Lake Louisa also offers two camping styles where parties have to set up their own space in the park the traditional rugged way or can opt for a more modern "carefree" setup where park officials set up a tent for the people staying at the site with necessary supplies (no assembly required.) And lastly, visitors can stay in a cabin with a TV and AC if they want to experience the outdoors without really being outdoors.
This site earned a spot on our list because it caters to anyone who wants a taste of the wilderness regardless of the camping experience.
📍: 25716 Powell Drive, Astor, Florida 32102
Powell's lies right alongside the St. Johns River, so pick a spot and enjoy the wilderness that surrounds the state's longest river.
This campground offers dining, boating, and shopping around the bend and has options for primitive tenting and full RV hookups.
A bit of everything is what got this site on our list. Powell's has just enough of the outside world to accommodate all families who may not want the full experience, but enough rugged feel for the hardcore camper.
📍: 3000 Marion County Road, Weirsdale, Florida, 32195
The Grand Oaks Resort has a spa, hair salon, and on-site dining. Need we say more?
This site combines nature and leisure with a side of event life. The 400-acre campground allows for full RV hookups and cottages and homes for up to 12 people. The resort/camping hybrid site is also a popular spot to host weddings and events and hosts equestrian events.
📍: 30700 Wekiva River Road Sorrento, Florida, 32776
Located just up the road from Orlando, this RV resort has it all. Trails, a lagoon/beach, a clubhouse, a pool, and tennis courts. Equipped with just about everything to not really make it a camping site but still enough outdoor space and scenery to give families the option of roughing it out, this spot is close enough to make a day trip to Orlando and enjoy the parks and then come back and enjoy the outdoors or RV life.
Honorable Mention
📍: 24511 County Road 42, Paisley, Florida 32767
📍: 49525 County Road 445, Altoona, Florida 32702
📍: 1800 Wekiwa Circle, Apopka, FL 32712
Considering traveling restrictions are still in place across the majority of the country and state, camping is a traveling experience that isn't necessarily limited at the moment. We do suggest you contact any park you'd be staying at before showing up.
So if you're feeling a bit adventurous, enjoy a camping trip with some family and friends and consider one of the spots on our list!
Are you interested in Florida travel? For stories like this and much more: Florida Insider is dedicated to educating, entertaining, and informing its readers about everything Florida. Easy to read content at the palm of your hands and covering the stories that matter.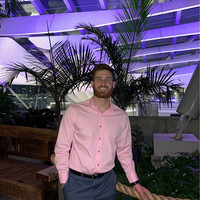 William is a South Florida native with professional experience writing at the collegiate and national news outlet level. He loves fishing, playing soccer and watching sports in his spare time and is a fan of all South Florida teams.