Fisher Island – Courtesy: Shutterstock – Image by FloridaStock
A few months ago, we covered a Bloomberg Wealth Report highlighting the country's wealthiest zip codes. Coming in at number one on that list was the historic private barrier island of Fisher Island off Miami Beach.
With an estimated average resident income of $2.2 million in 2018, the only accessible by ferry island is home to the wealthiest of the wealthy and boasts multi-million dollar waterfront properties, a private golf course, a hotel, and much more. And while the wealth aspect in monetary value is a large attention grabber, this small private island also comes with a rich history.
Timeline of Fisher Island
1905 – The City of Miami received permission from the government to cut through the barrier island widely recognized as Miami Beach to provide ships direct access from the Atlantic Ocean to the Miami seaport. The divide created a small 21-acre barrier island—Fisher Island.
1917-1918 – The first sale and purchase of Fisher Island happened between Herman B. Walker (1917) and Dana A. Dorsey (1918). Dorsey, one of the South's first African-American self-made millionaires, purchased the 21-acre lot from Walker for $8,000 plus ten tracts of land in Lemon City (known as Little Haiti) just outside of Overtown, according to a deed posted online by Florida International University.
1919 – One year later, Carl Fisher, an avid racing fanatic and automotive parts business owner, purchased the lot from Dorsey with the intent of expanding the small barrier island into a 300-acre deep-water seaport to serve cruise liners.
1927 – Fisher met with William Kissam Vanderbilt II, a member of the affluent Vanderbilt family, and proposed the famous "My Island for Your Boat" trade. At the time, Vanderbilt was the owner of a monster 265-foot yacht named the "Eagle." As a lover of racing cars and water vessels, Fisher was interested in the boat and successfully traded 7 of his 21 acres on the island in exchange for his boat and $1 extra.
Late 1920s-1941 – Mr. Vanderbilt expanded his land plot on the island to an estimated 13-acres and converted his portion into the family's winter retreat. Here, William and his wife, Rosamund, contracted a West Palm Beach architect to create a $1.5 million Mediterranean-inspired mansion with lush greenery, a tennis court, airplane hangar, pool, small cottages, and much more. Here, the Vanderbilt's would also park a 265-foot mega-yacht at the island. The main mansion and surrounding extras were completed in 1941.
1944-1946 – In 1944, William K Vanderbilt II passed at the age of 65 due to heart conditions, and his wife Rosamund sold the family estate to Edward S. Moore of U.S Steel shortly after. Moore would pass away shortly after in 1946, and the estate was sold yet again by his wife to the designer of the PT boat of WWII, Garfield Wood. Vanderbilt's wife passed three years after her husband.
1960-1968 – Portions of the island were used as quarantine stations and storage areas for Belcher Oil tanks, as well as the University of Miami Marine Biology Lab. In 1963, Wood sold the estate to an investment group led by Charles G. Rebozo but allowed him to stay in the home until he passed in 1971.
1980s – Fisher Island reportedly sat vacant for 15 years after multiple changes in ownership. Redevelopment on the island began in the early 80s, and in 1987 the Fisher Island Club was opened.
1993 – The Fisher Island Club converted into an Equity Members Club.
2007 – The Fisher Island Club began a $60 million restoration project to update the Vanderbilt Mansion, improve the golf course and amenities, hotel, and other facilities.
2013 – $60 million renovation was completed to the standards of the equity club members.
2019 – Fisher Island celebrated its 100th anniversary, marking Carl Fisher's purchase of the barrier island.
Legacy
The island has served as host of some of the most well-recognized wealthy figures of the 20th century and continues for the newer generation in the 21st. The now 216-acre island is home to some of the most exclusive properties in the world and has made a name for itself thanks to its lengthy history in Miami.
All information is courtesy of Fisher Island and Club website. For more information about amenities, joining the club, and more, visit their website.
Are you interested in Florida's history? For stories like this and much more: Florida Insider is dedicated to educating, entertaining, and informing its readers about everything Florida. Easy to read content at the palm of your hands and covering the stories that matter.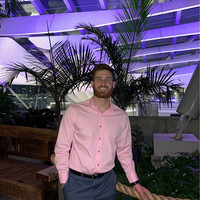 William is a South Florida native with professional experience writing at the collegiate and national news outlet level. He loves fishing, playing soccer and watching sports in his spare time and is a fan of all South Florida teams.