Fisher Island, South Beach, Miami Beach, Florida. USA. Courtesy: Shutterstock – Image by Mia2you
Florida lays claim to some of the best beaches in the world, is revered as one of the best places to retire, and home to countless amusement parks, world-class restaurants, and sights.
Now, Florida can add "Richest Zip Code" to that list of reasons why Florida is the best place to be.
Miami Beach 33109 has been recognized by Bloomberg Wealth as the wealthiest zip code in the United States, with an average income of $2.2 million in 2018.
The 216-acre private barrier island of Fisher Island off Miami Beach is no stranger to the top spot on the list as it has been here before multiple times. According to the Fisher Island Club, the island's centerpiece resort, the island was once home to railroad fortune heir William K. Vanderbilt.
Only accessible via ferry, the island is home to the elite 1%, the majority of which most people wouldn't recognize. Famous figures such as Mel Brooks and Oprah Winfrey reportedly own property on the site, which includes several mansions, luxury condos, a hotel, and a private golf course.
"It's obviously the 1% bubble, and the bubble is getting bigger. The people moving down here are influential, with a lot of money. You Google them and you're blown away," said Terry Zmyslo, store manager of Cremieux, the French luxury brand that opened a Palm Beach location three years ago.
It is expected that due to the pandemic, home values in the zip codes on the Bloomberg list have only gone up, accelerating a trend of seclusion and privacy and luxury for those who have the money.
The 100 zip codes were identified using 2018 Internal Revenue Service data, the most recent available numbers. According to data between March and September of this year, the average property value in the top-100 list rose roughly $28,600, a $22,300 increase compared to last year, supporting the surge in luxury purchases during the pandemic.
Coming in at third on the list was Palm Beach, FL 33480, with its most famous resident being President Donald Trump, who made his Mar-a-Lago home his permanent residency last year.
According to the data, 49 percent of zip codes on the list are spread throughout seven counties: California's Los Angeles and Santa Clara counties, Chicago's Cook County, Connecticut's Fairfield County, Houston's Harris County, and New York's Manhattan and suburban Westchester County.
To make the cut for the top-100 list on this year's rankings, an average income of more than $405,000 was needed to clinch the zip code's place on the rankings.
Florida accounted for a total of 11 unique zip codes on the top-100 including:
Miami Beach 33109
Palm Beach 33480
Naples 34102
Boca Raton 33496
Longboat Key 34228
Vero Beach 32963
Miami Beach 33140
Pelican Bay 34108
Jupiter 33477
Miami Beach 33154
Naples 34103
A pretty penny for most, but it's free to drive through these neighborhoods and window shop if that's your kind of thing. One can only dream, and that you don't have to pay for.
Are you interested in Florida real estate? For stories like this and much more: Florida Insider is dedicated to educating, entertaining and informing its readers about everything Florida. Easy to read content at the palm of your hands and covering the stories that matter.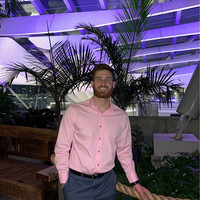 William is a South Florida native with professional experience writing at the collegiate and national news outlet level. He loves fishing, playing soccer and watching sports in his spare time and is a fan of all South Florida teams.