Sports Betting matchup Ticker screen – Courtesy: Shutterstock – Image by Sinisa Botas
The time for sports betting to become legal in Florida may be now.
While it may not have been the way legislators wanted it to happen—it's on the verge of happening thanks to the pandemic.
With Florida facing budget shortfalls of roughly $2.5 half billion over the next few years, any source of extra revenue for the state is welcome, and that is the golden ticket for a pair of state legislators to get Florida on the fast track to the land of sports gambling.
Florida House Representatives Chip LaMarca (R-Lighthouse Point) and Rep. Anika Omphroy (D-Lauderdale Lakes) are looking to level the playing field and join the over 20 states that have already legalized sports gambling across the country. The bill's intention is not only to allow Floridians to bet in-state but also bring extra necessary funds to the state that otherwise are going elsewhere.
According to the American Gaming Association, sports betting is "Live, Legal" in 20 states plus the District of Columbia, and "Legal" but not yet operational in five states throughout the country. Adding to that, 17 states (Florida included) have active or pre-filed legislation in 2021, and eight states have no legislation.
LaMarca and Omphroy are looking to bring Florida in on the cut that is a multi-billion dollar industry every year. The industry of sports gambling is so big that in October 2020, Americans "legally" bet an estimated $3 billion on sporting events in a single month, per data from the American Gaming Association.
Since sports gambling was legalized in 2018 with the fall of the Professional and Amateur Sports Protection Act (PASPA), the law which effectively outlawed sports wagering across the U.S., multiple professional teams throughout the five major sports leagues have inked multi-year deals with sports bookie outlets such as DraftKings.
The three bills, HB1317, HB1321, HB1319, were all filed last week Thursday in an effort to push Florida into the sports betting landscape and balance the state budget with the income generated as a result of the wagers.
"It would put dollars to us, where those dollars are currently going to the northeast, overseas, or the Caribbean," said LaMarca. "It would balance our budget, without deep cuts to healthcare, education, or infrastructure."
LaMarca estimates the sports betting business could bring in an extra $150 million-plus annually to the state, with the potential of doubling or tripling depending on if businesses come to Florida and participation increases.
"It is a privilege to file one of the three required pieces of legislation to bring legal sports wagering to Florida with Rep. LaMarca," Omphroy said Thursday. "We need to boost our tourism and fill budget gaps for things like education and workforce training. Sports wagering can provide the funds that we are currently leaving on the table."
In states such as Florida who have not yet legalized the practice of gambling on sports, millions and potentially billions of dollars are being spent elsewhere through illegal bookies or international sports betting businesses because of its status within the state. By finally passing legislation to legalize the practice in the Sunshine State, those funds could return to Florida and effectively be used to balance the state budget, which is expected to soar in the coming years.
However, the legislation proposed faces an uphill battle in the state due to a longstanding deal with the Seminole tribe regarding casino gambling. In 2018, Florida voted 'yes' in favor of requiring a local referendum to be passed before a change to casino gambling law was made.
South Florida sports lawyer Darren Heitner gave his input on the situation, saying, "We'd be naïve to not recognize the influence of the Seminole Tribe. They would not necessarily want widespread sports gambling, particularly if online operators are able to operate and the Tribe is cut out of it."
If there was ever a time for Florida to legalize sports betting, it is now. In 2020, Florida failed to pass a sports betting bill, but circumstances have changed, and more states have joined the push in making sports betting more widely available.
Make sure you are staying up-to-date with the latest and most important Florida news with Florida Insider. Whether you are interested in business, education, government, history, sports, real estate, nature, or travel: we have something for everyone. Follow along for the best stories in the Sunshine State.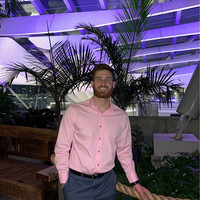 William is a South Florida native with professional experience writing at the collegiate and national news outlet level. He loves fishing, playing soccer and watching sports in his spare time and is a fan of all South Florida teams.