Rendering of Universal Orland Epic Universe Park – Courtesy: Universal Orlando
Florida will soon be getting another theme park on Universal Orlando Resort property. Epic Universe will join Islands of Adventure, Universal Studios, and Volcano Bay as the fourth member of the theme park family.
Work is slated to begin ramping up in the coming months once Universal can regroup the vendors and contractors that were scheduled to work on the original project before construction was halted in July 2020 due to the coronavirus pandemic.
The park was announced in 2019 and will be located a few miles from the current Universal Orlando campus in Southwest Orange County. Epic Universe will occupy a 750-acre lot that will almost double the company's current total available space in the Orlando area—an epic park needs proportional size.
"The restart of construction of Epic Universe is a terrific moment for our employees and for our theme park business in Florida," said Brian Roberts, chairman and CEO of Comcast Corporation, parent company of NBCUniversal. "It is our single largest investment in the state and represents our enthusiasm for the spectacular park and the economic opportunities it will generate."
Restarting the construction process will certainly bring back thousands of jobs to the greater Orlando region and, upon completion, is estimated to generate more than 14,000 permanent jobs. The project is also expected to inject billions of dollars into the state economy, which has suffered since the shutdown in early 2020.
Orange County Mayor Jerry L. Demings believes the project couldn't have come at a better time. "Our community has so many talented workers who will benefit from this massive project. I am confident it will deliver a huge economic boost to Orange County."
As with its other parks, Universal will provide transportation between all of its parks when it is completed.
Epic Universe is shaping to be more than just a theme park. The company is looking to make the resort a weeklong travel option, rather than the traditional two/three-day stay. Tom Williams, CEO of Universal Parks and Resorts, believes the park will be "the most immersive and innovative theme park we have ever created."
The problem is—you'll have to wait some time. Completing a full-scale project of this magnitude takes years of labor and thousands of workers to get going. Considering the pandemic paused the construction once already, regrouping all parties involved will take months before the company can fully attack the project with full staff.
"We are excited to begin work on Epic Universe again and for what this moment means for our industry, our community, our business, and our team members," Williams added. "Our confidence in our collective future is as strong as ever."
Epic Universe will be the first park Universal has built from the ground up since it opened Islands of Adventure back in 1999. Since then, the park has had multiple expansions and new additions.
Universal recently opened its Endless Summer Resort, where nightly rates start below $90. If you're looking to visit any of the Universal theme parks, make sure you read our article on the resort and consider a stay there!
In the meantime, Florida, sit tight and stay tuned for more updates.
Like what you see? Click here for more stories about everything Florida. Florida Insider is dedicated to educating, entertaining, and informing its readers about everything in Florida. Easy to read content at the palm of your hands and covering the stories that matter.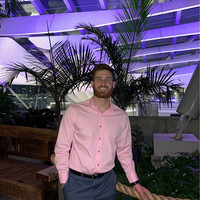 William is a South Florida native with professional experience writing at the collegiate and national news outlet level. He loves fishing, playing soccer and watching sports in his spare time and is a fan of all South Florida teams.