Courtesy: Image by leo2014 from Pixabay
Medgluv, a Florida-based glove manufacturer and distributor located in Coral Springs, contacted local police about a robbery at its distribution center late Sunday evening on Oct. 25.
Gloves, an essential piece of personal protection equipment for medical professionals, especially during the pandemic, have been in constant demand by hospitals. Six-million gloves amounting to $1 million were stolen directly from a parked distribution truck at the warehouse around midnight.
"It's heartbreaking to know that health care workers doing their best to take care of others" will be affected by the theft, said Medgluv's vice president for sales and marketing, Rick Grimes.
The PPE equipment was delivered on Friday to the warehouse and had been running 12 days late from the manufacturer in Malaysia.
"That's why hospitals were, for lack of a better term, clamoring" for the gloves, said Grimes.
The truck holding the gloves was parked at Medgluv's loading dock, waiting to be unloaded the following week. According to Grimes, the transporting company reached out to the owner of Medgluv asking to deliver the shipment after work hours on Friday— which was "a little bit unusual," but were willing to accept the delivery late because they had already been delayed for so long.
According to a surveillance video from Megluv, a semi-truck accompanied by a white Ford pickup pulled up next to the container around 11:40 p.m.
The calculated robbery took "less than six minutes" per Grimes. The robbers, who have yet to be identified, hooked the container to the truck and moved it enough to pry it from the loading dock before taking off with the container.
The Coral Springs Police Department was notified about the theft as well as the Federal Bureau of Investigation over trademark concerns, if the goods were to be exported, reported the New York Times.
The container was reportedly found by the local police department "completely empty" in the Miami area on Tuesday afternoon around 1 p.m.

Stories that matter is our priority. At Florida Insider, we make sure that the information we provide our readers is accurate, easy-to-read, and informative. Whether you are interested in business, education, government, history, sports, real estate, nature, or travel: we have something for everyone. Follow along for the best stories in the Sunshine State.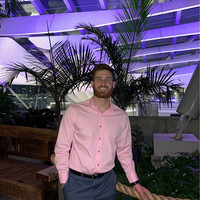 William is a South Florida native with professional experience writing at the collegiate and national news outlet level. He loves fishing, playing soccer and watching sports in his spare time and is a fan of all South Florida teams.