Courtesy: YES Market Media – Shutterstock– Juno Beach, Florida, USA – June 30, 2020: Governor Florida Ron DeSantis with Casey DeSantis and Madison DeSantis will make a major announcement at Loggerhead Marinelife Center in Juno Beach.
As if the voting season wasn't already hectic enough, things just got crazier, and it involved Gov. Ron DeSantis.
On Monday, the Florida governor arrived at a Tallahassee polling place to cast his 2020 presidential election ballot, but there was a problem: His primary address attached to his registration was different than what was in the system.
The address— a home in West Palm Beach. DeSantis has never moved since occupying the governor's mansion in the state's capital.
DeSantis later arrived at the Leon County Courthouse, Monday afternoon and was able to cast his vote after sorting out the problem.
On Tuesday, the Florida Department of Law Enforcement arrested a 20-year-old man from Naples, Fla., who had illegally and falsely submitted a change of address for the governor via the state's online system.
Anthony Steven Guevara was tracked down by the FDLE and Leon County elections office after locating an IP address change coming from his home in Naples.
Law enforcement then obtained a search warrant for Guevara's home, and investigators later found further evidence on his browser history with searches including the governor, "Florida my vote," and the Florida Department of State's website.
According to court documents, Comcast was subpoenaed for the address.
Florida's election website has been subject to criticism of late, which crashed on the last day of voter registration earlier this month. The change was done via the Department of State's website: In Florida, a voter's DOB is the only thing needed to change the address online. According to the Washington Post, Guevara cited the governor's Wikipedia page to local law enforcement for his findings.
He also told officers that he looked up voter information for Sen. Rick Scott (R-Fla.), LeBron James, and Michael Jordan, but only changed Desantis' according to court documents.
Supervisor of Elections for Leon County, Mark Earley told the Tampa Bay Times that the reason for the state's convenient online system is to allow for people who constantly move around, such as college students, to change their place of residence.
Florida Secretary of State Laurel Lee assured that the state's systems are secure, according to the Associated Press.
Like what you see? Click here for more stories about everything Florida. Florida Insider is dedicated to educating, entertaining, and informing its readers about everything in Florida. Easy to read content at the palm of your hands and covering the stories that matter.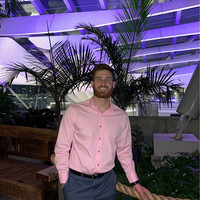 William is a South Florida native with professional experience writing at the collegiate and national news outlet level. He loves fishing, playing soccer and watching sports in his spare time and is a fan of all South Florida teams.