Hurricane Laura over the Gulf of Mexico. Courtesy: (NOAA via AP)
It was not long ago that the 2020 Atlantic hurricane season cast a dark shadow along Florida's coast and the Gulf of Mexico.
The record-breaking storm season produced 30 named storms, 12 of which made landfall in the continental U.S., according to the National Oceanic and Atmospheric Administration (NOAA). The busy 2020 hurricane season recorded at least one named storm during every month of the 5-month long period and surpassed the previous storm mark of 28 in 2005.
This year, AccuWeather predicts a similarly busy but less "hectic than 2020's nonstop season."
Let's dive in to the predictions for the "above-normal" tropical activity expectations for the 2021 Atlantic hurricane season:
Dan Kottlowski, expert senior meteorologist at AccuWeather, predicts that this year will result in:
16-20 named storms
7-10 hurricanes
3-5 major hurricanes (Category 3 or higher with minimum sustained winds of 111 mph)
According to Kottlowski's team, between three and five storms are expected to make landfall within the continental U.S., Puerto Rico, and U.S. Virgin Islands
"Current indications are this will be another above-normal season," said Kottlowski. "This can translate into high impacts on the United States."
For scale purposes, the annual average number of direct storm impacts is 3.5. Several key factors are expected to influence the coming season.
AccuWeather's forecast uses a compilation of current weather patterns and long-range climate models to estimate the busiest part of the season between August-October.
Determining factors such as whether the season will come during El Niño Southern Oscillation (ENSO) or La Niña season, how warm the Atlantic waters are, Accumulated Cyclone Energy (ACE) metrics, and more are used to predict the storm frequency each year. 2021 is shaping to be a busy one, but signs indicate it may not be as frequent as 2020.
Regardless of how busy the Atlantic storm season is shaping out to be, it is important to remember that proper precautions must be taken before the season starts. Do not wait until the last minute, be proactive, and watch local forecasts.
For a more in-depth look at the upcoming season, you can find AccuWeather's forecast by clicking here.
Make sure you are staying up-to-date with the latest and most important Florida news with Florida Insider. Whether you are interested in business, education, government, history, sports, real estate, nature, weather, or travel: we have something for everyone. Follow along for the best stories in the Sunshine State.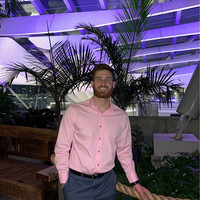 William is a South Florida native with professional experience writing at the collegiate and national news outlet level. He loves fishing, playing soccer and watching sports in his spare time and is a fan of all South Florida teams.