Mahi Mahi on a lure – Courtesy: Shutterstock – Image by Jason Richeux
Florida is home to some of the best fishing spots in the world. Whether you are looking to catch Mahi Mahi off the Florida Keys during the summer months, lobster during mini-season, Grouper almost year-round, or freshwater bass at a local lake—the Sunshine State provides prime spawning areas for species across the board in the aquatic world, which makes it easy and fun to catch year-round.
However, like most hunting practices, licenses are required to fish in the state of Florida every day of the year unless otherwise noted by the Florida Fish and Wildlife Conservation Commission (FWC).
While licenses are traditionally cheap in the state, many people forget that due to overfishing and hunting, regulations must be set in place in order to manage population counts and resources for the long-term well-being of the species and people. In order to thwart overfishing, the FWC requires that anyone who chooses to fish in salt or fresh water in Florida must have a valid, non-expired license granting permission to do so.
Aside from needing a license, fishers must also follow guidelines and regulations for protected species and areas outlined by the state protection agency. Depending on the patterns throughout the year, the FWC is in charge of altering existing laws and regulations to properly manage overfishing and hunting practices.
But every once in a while, the agency reveals a set of license-free dates throughout the year to encourage fishing along Florida's coast. Resident and non-resident recreational anglers are welcome to come and fish in salt and freshwater areas without a license during the designated dates but must abide by all other rules such as fishing seasons, bag, and size limits.
This year the following dates are included in the license-free 2021 fishing dates, with the first freshwater session beginning this upcoming Easter weekend:
License-Free freshwater days
Weekend of April 3 & 4
Weekend of June 12 & 13
License-Free saltwater days
Weekend of June 5 & 6
Saturday, September 4
Saturday, November 27
During the above dates, licenses will not be required to fish in the Sunshine State, providing recreational and first-time anglers without a license the ability to get out on the water and experience the allure and thrill of casting a line. Once anglers have a taste of what it's like to fish during the waived days, they are more likely to obtain a license through the FWC and fish freely in accordance to local regulations.
"License-free fishing days provide an excellent opportunity for those who don't yet have a fishing license to experience fishing, take youth fishing, or for avid anglers to introduce a friend to fishing without having to purchase a license," reads the FWC website.
For more information on Florida fishing and hunting licenses, click here.
If fishing isn't your thing, but you still enjoy being on a boat, check out our guide on choosing charter boats in Key West.
Make sure you are staying up-to-date with the latest and most important Florida news with Florida Insider. Whether you are interested in business, education, government, history, sports, real estate, nature, weather, or travel: we have something for everyone. Follow along for the best stories in the Sunshine State.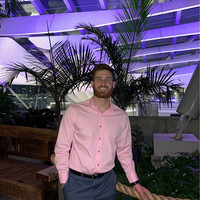 William is a South Florida native with professional experience writing at the collegiate and national news outlet level. He loves fishing, playing soccer and watching sports in his spare time and is a fan of all South Florida teams.