Courtesy: Image by David Mark from Pixabay
Florida. We did it.
The extremely busy 2020 Atlantic hurricane season will officially come to a close today, November 30. Meaning the season for perfect storm conditions spanning the Atlantic and lower Caribbean waters does not have to be revisited until June 1, 2021.
That's not to say a storm cannot develop before then; however, chances of such large storms forming drop dramatically.
This year, the Atlantic hurricane season produced a record-breaking 30 named storms, 12 of which made landfall in the continental U.S., breaking the previous on the record count of 28 in 2005, and the second-highest number of hurricanes on record, per the National Oceanic and Atmospheric Administration.
"Throughout this relentless hurricane season, NOAA worked around-the-clock to provide critical data and reliable forecasts to our Nation's communities in the path of devastating storms," said U.S. Secretary of Commerce Wilbur Ross. "The services provided by NOAA, alongside our emergency management partners, undoubtedly helped save many lives and protect property."
Beginning with Arthur and ending with Iota, this storm-heavy season produced at least one named storm every month through the season and made quick use of the 21-name Atlantic list that was released before the season. After the list was exhausted, the Greek alphabet was turned to for just the second time in history—9 of which were used en route to Iota.
While many states, Louisiana and Texas namely, and foreign Caribbean countries, got pounded with the higher strength storms, Florida got away with minor scratches.
Louisiana saw its strongest hurricane in terms of wind speed since 1856, with sustained winds of 150 mph, and the city of New Orleans had Hurricane Zeta's storm eye pass over the middle of the city, making it the first time in 50 years since a storm had done so. Yes, not even Katrina was as fast as Hurricane Laura, nor did it directly pass over the major city the same way it did this year.
Ten storms formed in the month of September alone, the most in any month on record, according to NOAA, and at one point had five tropical systems in the Atlantic at the same time.
Neil Jacobs, Ph.D., acting NOAA administrator, said, "The 2020 Atlantic hurricane season ramped up quickly and broke records across the board. Our investments in research, forecast models, and computer technology allowed forecasters at the National Weather Service, and its National Hurricane Center, to issue forecasts with increasing accuracy, resulting in the advanced lead time needed to ensure that decision makers and communities were ready and responsive."
2020 was the fifth consecutive year with "above-normal" activity in the Atlantic, with 18 of the last 26 falling in the same category. The increased activity can be attributed to the warm phase of the Atlantic Multi-Decadal Oscillation (AMO), which began in 1995, and has favored the activity and strength of the storms on record as of late.
"As we correctly predicted, an interrelated set of atmospheric and oceanic conditions linked to the warm AMO were again present this year. These included warmer-than-average Atlantic sea surface temperatures and a stronger West African monsoon, along with much weaker vertical wind shear and wind patterns coming off of Africa that were more favorable for storm development. These conditions, combined with La Nina, helped make this record-breaking, extremely active hurricane season possible," said Gerry Bell, Ph.D., lead seasonal hurricane forecaster at NOAA's Climate Prediction Center.
The season recorded a record high 13 hurricanes and six major hurricanes (the average season has 12 named storms, six hurricanes, and three major hurricanes for scale.)
Why was Florida lucky?
When you consider Florida's geography, a long and protrusive state that safeguards the Gulf states of Louisiana, Mississippi, and Texas, and realize that those states received more activity and landfall than Florida—consider it luck.
The storms followed quite an erratic path this season, leaving no state out of the danger zone from as far west as Texas to as far northeast as Maine: the whole Gulf and Eastern seaboard underwent some form of storm watch or warning.
Of the 30 named storms this season—only FOUR touched the state, and one major hurricane, Eta, made direct landfall in the state, thrashing the coast with record rain.
Even Eta, which entered the state via the lower Keys and then re-entered near Levy County days later, didn't cause as much damage as expected, considering it was the only "direct" Florida had the entire season.
However, Hurricane Sally did cause the most damage to the Sunshine State and didn't even enter. With nasty storm surges and the close proximity of the entering point in Alabama. Escambia County did report damages to the Pensacola Bay Bridge, claimed three lives, and destroyed an estimated $55-100 million in losses of livestock, aquaculture, and crop.
Considering Florida is usually a magnet for storms during the season and historically, it caught a major break, one that cannot be explained, but definitely won't be taken for granted.
The next Atlantic storm season does not begin until June 1, 2021, so in the meantime, enjoy it and stay safe.
Stories that matter are our priority. At Florida Insider, we make sure that the information we provide our readers is accurate, easy-to-read, and informative. Whether you are interested in business, education, government, history, sports, real estate, nature or travel: we have something for everyone. Follow along for the best stories in the Sunshine State.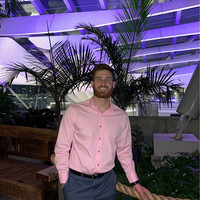 William is a South Florida native with professional experience writing at the collegiate and national news outlet level. He loves fishing, playing soccer and watching sports in his spare time and is a fan of all South Florida teams.