Sunset Open Deck of Cruise Ship – Courtesy: Shutterstock: Image by Yevgen Belich
Making headlines yet again, Royal Caribbean International announced Tuesday that it will require all guests over the age of 16 departing from U.S. ports, excluding Florida, to be fully vaccinated before boarding their ships.
The announcement comes two weeks after a scheduled Royal Caribbean test cruise pushed back a sailing after eight crew members tested positive for COVID-19.
While Florida travelers will be the exception to the rule, they are still encouraged to be fully vaccinated before departing from a Florida port.
Governor Ron DeSantis signed an executive order in May, preventing businesses operating in Florida from asking individuals whether they have been fully vaccinated against COVID-19.
But, there's a catch.
Royal Caribbean also announced that unvaccinated passengers leaving from Florida ports between Aug. 1 and Dec. 31 will be required to provide proof of travel insurance.
The insurance policies and requirements are as follows:
Must cover all unvaccinated guests over the age of 12
Policy liability must cover at least $25,000 per person and $50,000 per person for quarantine and medical evacuation related to a positive COVID-19 test result
Passengers will also be required to pay for their own COVID-19 testing
As for those who are ineligible to get vaccinated, they will have to show proof of a negative test result and follow "certain health protocols."
Royal Caribbean's Freedom of the Seas ship successfully completed a simulated voyage earlier this month and received a condition sailing certificate from the Centers for Disease Control and Prevention (CDC), allowing the ship to resume public sailings from Florida ports beginning this Friday.
The cruise industry has waited over 15 months to resume its services across the world, and Royal Caribbean intends to be the leader to kick things back into gear.
Are you interested in Florida travel? For stories like this and much more: Florida Insider is dedicated to educating, entertaining, and informing its readers about everything Florida. Easy to read content at the palm of your hands and covering the stories that matter.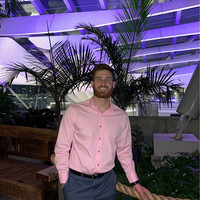 William is a South Florida native with professional experience writing at the collegiate and national news outlet level. He loves fishing, playing soccer and watching sports in his spare time and is a fan of all South Florida teams.