Courtesy: Joe Raedle-Getty Images
Royal Caribbean announced earlier this morning that it will push back its first scheduled sailing out of Florida's Port Everglades in Fort Lauderdale to the end of July.
Originally scheduled for a July 3 departure, Royal Caribbean's newest ship, Odyssey of the Seas, faced a predictable setback in its debut out to sea.
The cruise line announced early Wednesday morning that it would be pushing back the scheduled debut sailing to the end of July after eight crew members aboard the ship tested positive for COVID-19.
Before beginning preliminary sailings, all 1,400 Odyssey of the Seas crew members were given PCR tests upon the ship's arrival before getting the required vaccination to set sail out of Florida's Port Everglades.
The ship arrived on U.S. waters on June 4, and crew members were vaccinated immediately after PCR test results arrived; and six days after the vaccines were administered, Royal Caribbean again tested all crew members, only to find eight of them tested positive for the coronavirus.
President and CEO of Royal Caribbean International, Michael Bayley, posted on Facebook late Tuesday night that the "positive cases were identified after the vaccination was given and before they were fully effective."
Out of an abundance of caution, the liner has suspended all July sailings between July 3 and July 25 before it sets sail later in the month. All travelers who were affected by the cruise cancellations are being given the choice of four options: full refund, 125% future cruise credit, move to another cruise in 2021 or move to a qualifying sailing next year.
While the news certainly sets the cruise liner back, the positivity rates post-vaccination are encouraging, considering only .57% of all crew members aboard the massive 1,138-foot long ship tested positive.
The inaugural sailing for Royal Caribbean's newest ship is now scheduled for July 31, 2021. The ship will participate in the required simulated sailing before boarding passengers as part of the CDC's Conditional Sailing Order (CSO).
As of the writing of this article, all other ships in the fleet are scheduled to set sail on time.
Stories that matter are our priority. At Florida Insider, we make sure that the information we provide our readers is accurate, easy-to-read, and informative. Whether you are interested in business, education, government, history, sports, real estate, nature, or travel: we have something for everyone. Follow along for the best stories in the Sunshine State.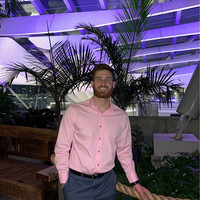 William is a South Florida native with professional experience writing at the collegiate and national news outlet level. He loves fishing, playing soccer and watching sports in his spare time and is a fan of all South Florida teams.