Royal Caribbean Pool Deck – Courtesy: Shutterstock – Image by John Panella
One month ago, the U.S. Centers for Disease Control and Prevention updated its "Framework for Conditional Sailing Order for Cruises" as a first step to allow ships to leave from U.S. seaports and resume cruising later this year.
Tuesday, Royal Caribbean International became the first major cruise liner to be granted access to begin conducting simulated volunteer voyages in accordance with CDC guidelines, per a company statement.
"After 15 months of hard work and collaboration, today's approval of our simulated cruises is the latest promising step in our path to return to sailing in the U.S.," said the statement from the cruise liner. "We look forward to welcoming our crew, loyal guests, and supporters from around the world this summer."
The green light to begin cruise simulations in the U.S. is a big step toward getting the cruise industry back on its feet after 15 months of no sailing in its most successful market.
Royal Caribbean will be able to conduct non-paid, volunteer simulated sailings beginning June 20 from PortMiami on its Freedom of the Seas ship. A test cruise certificate is required for liners that are not guaranteeing 100 percent vaccination rates among passengers and crew during a given sailing.
According to the updated CDC guidelines from last month, "cruise ships can resume sailings out of major U.S. ports, so long as 95% of travelers and 98% of ship crewmembers are vaccinated." Test sailings are only required for liners that cannot guarantee they will be able to meet those required vaccination rates at the time of sailing.
"Over the past month, senior leadership from CDC have met multiple times a week with cruise line senior executives to discuss the Framework for Conditional Sailing Order (CSO)," said CDC spokesperson Caitlin Shockey in a statement. "During these meetings, participants asked questions and discussed the fastest path back to sailing without compromising safety. CDC and the cruise industry agree that the industry has what it needs to move forward, and no additional roadblocks exist for resuming sailing by mid-summer."
The CDC outlined the following details for all simulated sailings:
At least 10 percent of the total passenger capacity allowed by the ship (Freedom of the Seas holds 4,515 passengers)
Volunteers must be 18 years of age or older and either fully vaccinated or proof that they are free of medical conditions that would otherwise put them at high risk for a severe COVID-19 reaction
Passengers must agree to be tested for COVID-19 before and after the ship test sailings
Cruise companies must end simulated sailings if 1.5% of the passenger population tests positive for COVID-19 or 1% of crew test positive.
Royal Caribbean International CEO Michael Bayley shared a letter on Facebook from the CDC that announced the cruise liner's approval to begin test sailings.
"To all our colleagues, loyal guests, and supporters all over the world, I am proud and pleased to share some bright and wonderful news! Boom! Onwards and upwards team!" read the letter.
Interested in volunteering for the test sailings beginning June 20 can monitor the company's Volunteers of the Seas Facebook page.
Are you interested in Florida travel? For stories like this and much more: Florida Insider is dedicated to educating, entertaining, and informing its readers about everything Florida. Easy to read content at the palm of your hands and covering the stories that matter.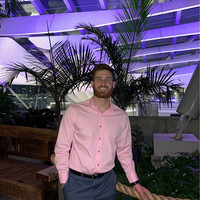 William is a South Florida native with professional experience writing at the collegiate and national news outlet level. He loves fishing, playing soccer and watching sports in his spare time and is a fan of all South Florida teams.