"Welcome to Florida" sign (The Sunshine State) Courtesy: Shutterstock – Image by Ingo70
U.S. News & World Report recently released its comprehensive 2021 rankings for the Best States in 2021, keeping in mind how states are adjusting to life during a pandemic and how its residents have managed during these tough times.
As most Floridians can attest—living in the Sunshine State can be great and certainly has its perks. The weather, the beaches, top-tier resorts and restaurants, nightlife, and much more give Florida a huge advantage when considering its pot in the rankings.
While U.S. News considers far more than those metrics listed, it shows Florida is more than just for leisure but can provide a safe and stable home environment for families to live in permanently. In other words, Florida isn't just a vacation hub; it's a forever home that often gets more hate than it deserves.
The Rankings
Improving on last year's rankings, Florida cracked the top-10 on this year's list beating states such as Texas, California, and New York. Not too shabby for a spring break retreat state.
The rankings take a look at 71 different metrics across eight categories and "analyze how well states serve their residents in a variety of ways as the coronavirus pandemic continues to upend life throughout the nation," according to the website.
Florida notched its highest rankings in the education sector, coming in at number three overall in the country and number one in higher education. The state also recorded above-average numbers in two other education categories, with an 86.3% high school graduation rate compared to the national average of 85.3% and an estimated $24,629 of debt at graduation compared to the whopping national median of $28,996.
On the other end of the spectrum, Florida's lowest ranking came in the opportunity segment, where it came in at number 33 overall, lagging in affordability and economic opportunity categories. The median household income also fell under the national average by almost $6000 and boasted an above national average poverty rate at 12.7% compared to 12.3%.
While no state is perfect, Florida has done the best it possibly could considering the circumstances and provided a silver lining in the job growth category with a full percentage point above the national average at 2.4%.
Florida Rankings Snapshot
Health Care – #25
Education – #3
Economy – #8
Infrastructure – #20
Opportunity – #33
Fiscal Stability – #8
Crime & Corrections – #26
Natural Environment – #18
To see Florida's full rankings, click here.
Florida rounded out the top-10 trailing Washington, Minnesota, Utah, New Hampshire, Idaho, Nebraska, Virginia, Wisconsin, and Massachusetts.
Make sure you are staying up-to-date with the latest and most important Florida news with Florida Insider. Whether you are interested in business, education, government, history, sports, real estate, nature, or travel: we have something for everyone. Follow along for the best stories in the Sunshine State.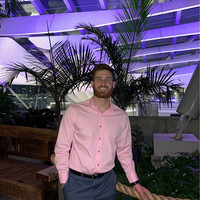 William is a South Florida native with professional experience writing at the collegiate and national news outlet level. He loves fishing, playing soccer and watching sports in his spare time and is a fan of all South Florida teams.