The Breakers Palm Beach, Palm Beach's storied luxury resort – Courtesy: Forbes Travel Guide
Despite declining travel figures in the year 2020, Florida has managed to remain a top travel destination in the world thanks to its wide selection of resorts, restaurants, destinations, entertainment, and more.
Helping Florida maintain its status as a top travel destination are the awards handed out annually from travel blogs, news outlets, and more. This time around, it's Forbes.
In its annual Travel Guide Star Awards, Forbes released its list of international hotels, restaurants, and spas that made the cut for its 4 or 5-star travel guide designation, along with recommended properties.
The Data
The Forbes list has been released annually for 63 years, and this year's list featured a total of 1870 Five-Star, Four-Star, and Recommended hotels, restaurants, and spas from around the world:
283 Five-Star, 576 Four-Star, and 438 Recommended hotels
73 Five-Star, 136 Four-Star, and 77 Recommended restaurants
90 Five-Star and 200 Four-Star spas
Of the 1870 properties that made the annual report, 82 call the Sunshine State home—8 Five-Star hotels, 2 Five-Star restaurants, and 7 Five-Star spas; 23 Four-Star hotels, 4 Four-Star restaurants, and 15 Four-Star spas; and 15 Recommended hotels, 8 Recommended restaurants, and 0 Recommended spas.
| | | | |
| --- | --- | --- | --- |
| Florida Rankings | Five-Star | Four-Star | Recommended |
| Hotels | 8 | 23 | 15 |
| Restaurants | 2 | 4 | 8 |
| Spas | 7 | 15 | 0 |
All properties on the list were surveyed before the pandemic, and once local restrictions allowed Forbes' disguised judges to revisit.
In order for a resort, restaurant, or spa to make the list, Forbes Travel Guides inspectors stay at each property for three days and two nights (paying their own way) and act as if they were regular guests. The inspectors then test "up to 900 objective, stringent standards, from modern-day luxuries—such as whether a room is set up to enhance sleep, and the food-and-beverage choices are health-conscious—to more traditional luxuries, like the quality of the interior décor and design of the staff's uniforms," according to the Forbes Travel Guide.
Florida came in third place behind California and New York, respectively, within the United States for most properties on the list.
The majority of the properties that made up Florida's standings were located within Miami-Dade and Palm Beach County, thanks to its clear beaches and high-roller resorts.
While the itch due to lack of traveling likely has many people on the edge of their seats, this list should serve as a reminder for Florida residents that staying near the house may not be so bad. Therefore, if you're looking to get away but can't leave the country to your dream international destination and rather save than travel domestically, look no further than around the corner—Florida is the place to be.
For the full list of Florida properties that made the cut, click here, and be sure to sort by area. Before you begin traveling, make sure you review the property's guidelines in accordance with COVID-19 restrictions.
Are you interested in Florida travel? For stories like this and much more: Florida Insider is dedicated to educating, entertaining, and informing its readers about everything Florida. Easy to read content at the palm of your hands and covering the stories that matter.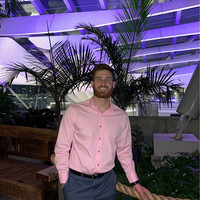 William is a South Florida native with professional experience writing at the collegiate and national news outlet level. He loves fishing, playing soccer and watching sports in his spare time and is a fan of all South Florida teams.