Courtesy: Alberto M. Carvalho — Twitter: @MiamiSup visiting Andrea Castillo Preparatory Academy
Miami-Dade County officially welcomed its first batch of students to the 2020-2021 school year Monday, Oct. 5.
An estimated 22,000 students from Pre-K through first grade and ESE (Exceptional Student Education) returned to the traditional in-person learning format for the first time since March of this year.
On Tuesday, Sept. 29., the MDCPS board approved the state's Education Commissioner Richard Corcoran's request to reopen schools on Monday to avoid a loss of "millions in funding" for the public school system.
The previous start date agreed upon by the county was slated for Oct. 14., however, after pressure from Gov. Ron DeSantis to reopen the entire state and education officials, the date was ultimately pushed forward.
MDCPS Superintendent Alberto Carvalho visited various schools throughout the first day back and was happy to report "nothing but happy faces," from both teachers and students.
Carvalho was very active on Twitter, detailing almost all of his visits via photos with school staff and classroom visits which can be seen here.
Given the recency of the return to in-person learning, the numbers of COVID-19 affecting the school system cannot be accurately reported. However, Gov. DeSantis discussed the possibility of launching rapid-testing if needed saying, students can be given the test, "and then we'll know within 15 minutes whether it's COVID or not."
With numbers of the virus climbing yet again in the state, the news to restart was not taken lightly by the United Teachers of Dade. In a statement following last Tuesday's decision, the union released a statement proclaiming it is evident that "each student, educator, and employee has a price tag on their life."
While Miami-Dade has started their brick and mortar in-person learning plan, it is not a requirement for all students to return to this format. Many students and parents have elected to continue distance learning practices from their homes.
All grade schools will be fully functioning no later than Friday, Oct. 9.
Attached below you will find a layout of the staggered return to school plan for Dade County.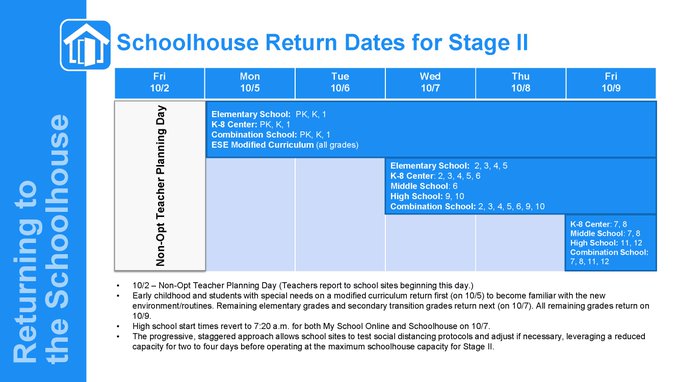 Meanwhile, just north of Miami-Dade, the state's second-largest public school system is preparing for its restart later this week on Friday, Oct. 9., following a similar staggered start.
According to the MDCPS website, the school district is home to over 345,000 students amongst the 392 schools and the Broward County School system boasts roughly 260,000 students in 330 schools.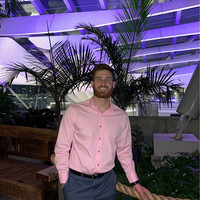 William is a South Florida native with professional experience writing at the collegiate and national news outlet level. He loves fishing, playing soccer and watching sports in his spare time and is a fan of all South Florida teams.