Courtesy: Layron Livingston WPLG Channel 10 News.
Located in Bakehouse Art Complex in Wynwood
Known for its colorful murals, Miami's Wynwood Walls has a new addition to its ever-growing display of art. But this piece is much more than just a mural. It's a statement. A symbol of solidarity and a plea for peace.
Located on the west side of the Bakehouse Art Complex, visual artist, Vanta Black, intends to use her voice and skill to promote peace and justice in her community and for victims of gun violence all over.
Using an entire street block as her canvas, Black's message is simple, "SAY THEIR NAMES," written in English, Spanish, and Creole.
While traditionally the walls are used for displaying artists' creations in a colorful and lively manner, this piece, a black canvas with the names of hundreds of victims who have tragically passed away as a result of gun violence and domestic abuse written in white letters.
Much like the 9/11 memorial in New York City that lists the lives lost on that tragic day, this acts as a place where residents and visitors may go to pay their respects.
With names spanning from the tragedy in Parkland to everyday crime, this mural aims to include all races affected.
Black, wanted to keep things simple, "I didn't want to conflate the issue. I didn't want to confuse people. I think it's self-explanatory," she said in an interview with WPLG Channel 10. "To think about all the people that love that person, the life that that person lived, all of those things are connected to their name, and I want people to say names as they come to this place."
Although the piece began in July, the list of names continues to grow daily.
You can visit the mural any day of the week to reflect or pay respect at: 561 Northwest 32nd Street, Miami, FL.
If you'd like to find out more about the Wynwood Walls click here.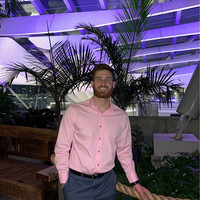 William is a South Florida native with professional experience writing at the collegiate and national news outlet level. He loves fishing, playing soccer and watching sports in his spare time and is a fan of all South Florida teams.