LONDON, ENGLAND – JUNE 26, 2020: Cineworld Cinema in South Ruislip, London, England closed during the COVID-19 pandemic – 047 Courtesy: Shutterstock – South Ruislip, Ruislip HA4, UK By Chaz Bharj
Floridians were dealt a big blow early Monday morning after receiving news that they'd have to wait a bit longer before they are able to return to watching movies on the big-screen just like in the "old-days."
Regal Cinemas parent-company, Cineworld Group, announced it will be "temporarily suspending operations at all of its 536 Regal theatres in the US and its 127 Cineworld and Picturehouse theatres in in the UK from Thursday, 8 October 2020."
The news became official Monday morning via a company statement just days after speculation on whether or not the cinema giant would choose to seize operations in its almost 700 locations between the U.S. and U.K.
Driving the shutdown was last week's decision by MGM, Universal and Bond producers, Michael G. Wilson and Barbara Broccoli to delay the release of the highly anticipated 25th installment in the James Bond series, "No Time to Die." Originally slated to release in April of this year, the date was pushed back on two separate occasions due to the COVID-19 pandemic. The film is now tentatively scheduled to be released on April 2, 2021.
Regal Cinemas accounts for over 40 locations in Florida, making it the largest cinema-chain in the state.
Just weeks after theatres had been re-integrated in Florida in early September and a week after Gov. Ron DeSantis made the decision to fully mobilize the entire state into Phase 3 of the COVID-19 recovery plan, the news comes as a hard blow to movie-goers as this cuts out a large portion of the theatres that can be visited across the state.
"This is not a decision we made lightly, and we did everything in our power to support safe and sustainable reopenings in all of our markets – including meeting, and often exceeding, local health and safety guidelines in our theatres and working constructively with regulators and industry bodies to restore public confidence in our industry," said Mooky Greidinger, CEO of Cineworld.
Fortunately, there is some good news.
Although the vast majority of Florida theatres are closing, the country's leading cinema-chain, AMC, has made no decision yet to halt operations which means there are another 30+ theatres you can visit in the state along with other small chain dives. In the meantime, if you are itching to go watch a flick on the big-screen, check your local listings to find an operating theatre near you and make sure to abide by local laws and restrictions.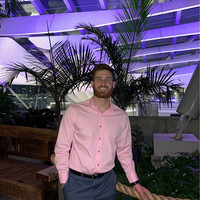 William is a South Florida native with professional experience writing at the collegiate and national news outlet level. He loves fishing, playing soccer and watching sports in his spare time and is a fan of all South Florida teams.