Courtesy: Alex Perna (NBCUniversal)
The second member of the Endless Summer Resort at Universal Orlando will finally open its doors to the public on December 15, 2020.
The Dockside Inn and Suites will join its sister resort Surfside Inn and Suites on the property and will begin offering stays at $79 per night.
Because of the pandemic, the opening was delayed along with other resorts on the property such as the Loews Portofino Bay Hotel, which will be resuming operations on December 1, 2020 according to a company release.
"Safety and well-being protocols will be in place throughout both hotels, as they are across all of Universal Orlando's hotels and theme parks," added Universal.
The Dockside Inn and Suites resort will reportedly boast 2,050 guest rooms, featuring standard rooms and spacious 2-Bedroom Suites. And with the low nightly rate, the resort will have one of the most competitive rates in the area when compared to its Disney rival resorts.
The resort, inspired by "sand, sea, and breathtaking sunsets" will provide a coastal feel for all visitors and complement its sister property by staying on brand with the 'Endless Summer' vibe. It will also become the eighth property in partnership with Loews Hotels & Co, providing guests with a variety of options for every style and budget, and including the same benefits of the other higher-end resorts on the land.
Among some of the amenities and property highlights released by the company are the following:
2-Bedroom Suites – These suites, which make up more than half the rooms at both Dockside Inn and Suites & Surfside Inn and Suites, sleep up to six and offer guests an unrivaled value. With two separate rooms, families no longer need two connecting rooms for extra space. There is also a kitchenette area, a picnic table for meals and hanging out, and a bathroom with separate bath and vanity areas so multiple people can get ready at once. The 2-Bedroom Suites begin as low as $120 per night based on a four-night stay.
Exclusive Theme Park Benefits – Hotel guests receive exclusive benefits including Early Park Admission to the theme parks, complementary and convenient shuttle bus transportation, charging privileges with their room key and more.
Pier 8 Market – The all-American Pier 8 Market offers casual dining for breakfast, lunch and dinner. The menu will feature extra-affordable options with most dishes under $12, ranging from themed comfort foods to convenient on-the-go options.
Awesome Amenities – The lobby bar, Sunset Lounge, serves specialty cocktails and is the perfect place to unwind after a day at the theme parks. The hotel will feature two pools and two pool bars as well as a Universal Orlando Vacation Planning Center, Universal Studios Store and more.
The long awaited resort is currently taking reservations and will abide by state and local mandates in regards to COVID-19.
For more information, visit http://www.universalorlando.com/dockside.
Are you interested in Florida travel? For stories like this and much more: Florida Insider is dedicated to educating, entertaining, and informing its readers about everything Florida. Easy to read content at the palm of your hands and covering the stories that matter.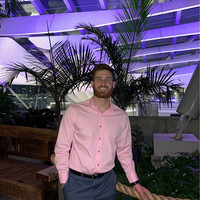 William is a South Florida native with professional experience writing at the collegiate and national news outlet level. He loves fishing, playing soccer and watching sports in his spare time and is a fan of all South Florida teams.