Courtesy: Busch Gardens Tampa Bay
A video released by Busch Gardens has surfaced showing the all-new additions to the once wood-only rollercoaster at the popular Florida theme park.
Gwazi, as it once was called, was a dueling wooden roller coaster with opposing running tracks named Lion and Tiger; the name originated from a fabled creature detailing the body of a lion with the head of a tiger.
The revamped version, Iron Gwazi, was set to open earlier this year, but thanks to the pandemic, theme park fans will have to wait an extra year before being able to ride it.
While the ride itself has been ready since March, park officials decided to postpone the official debut for riders until Spring 2021.
"It's going to be a spectacular ride, and it's certainly highly anticipated," said Neal Thurman, park president, about the hybrid steel-wood coaster via USA Today.
Iron Gwazi will be the world's steepest and fastest hybrid steel-wooden roller coaster when it officially opens to the public. In the meantime, park-goers have to resort to the video below and flail their arms up in the sky, imagining they are on the ride.
"While we couldn't bring it to life [this year], it's going to happen, and the excitement about it is not going to change," added Thurman.
The coaster retained the majority of the original structure, which opened in 1999, but like most wood structured coasters, each run on the track made the next ride rougher for its passengers.
Busch Gardens temporarily shut down the ride in 2015 after multiple attempts at fixing the popular ride with remedial fixes proved unsuccessful. The ride sat unused until the park brought in famed repair and coaster creation team Rocky Mountain Construction (RMC) to revive the ride.
The ride will now boast speeds up to 76 miles per hour, and feature a 91-degree, 206 foot-tall drop to begin the exhilarating ride and is labeled by the park as "North America's Tallest and the World's Fastest and Steepest Hybrid Coaster."
Until now, amusement parks had three options when their wooden roller coasters began regressing: repair them; shut them down; or continue to run the coaster despite its painful, bumpy ride until it couldn't anymore. But, thanks to RMC's ingenuity, parks now have a final option: give the ride a facelift by converting it into a wooden-steel hybrid.
The latter option makes everyone happy.
How did they do it?
RMC took the existing structure, gutted the original wooden track, and replaced it with its I-shaped patented IBox steel track that holds up longer and gifts riders with a smoother experience.
Unlike wooden coasters, hybrid coasters like Iron Gwazi remain smooth. The first two RMC constructed hybrids, New Texas Giant at Six Flags Over Texas and Iron Rattler at Six Flags Fiesta Texas, opened in 2011 and 2013 and continue to run like new according to many riders.
The "hyper-hybrid" coaster also got a major change in the form of height. A big one. Consider it went through a growth spurt.
Iron Gwazi boasts a max height that dwarfs its predecessor almost twofold, making it the tallest roller coaster in the Sunshine State, dethroning its park neighbor Sheikra and no longers features a double-track design; instead, RMC made it a single-track ride with a longer course.
"The 91-degree drop, from 206 feet in the air, will be the biggest highlight," said Andrew Schaffer, director of design and engineering at Busch Gardens Tampa.
Iron Gwazi is the first and only RMC hybrid in Florida, and in addition to being the tallest coaster in the state, it will also lay claim to being the fastest.
"People will get excited when they see it," Schaffer said. "It'll be a little terrifying to see."
Coaster junkies, this one is for you.
Like what you see? Click here for more stories about everything Florida. Florida Insider is dedicated to educating, entertaining, and informing its readers about everything in Florida. Easy to read content at the palm of your hands and covering the stories that matter.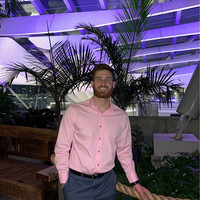 William is a South Florida native with professional experience writing at the collegiate and national news outlet level. He loves fishing, playing soccer and watching sports in his spare time and is a fan of all South Florida teams.