Courtesy: Image by Ed Judkins from Pixabay
According to one lobbyist from the cruising sector, a majority of Florida cruises scheduled for 2021 may not be able to set sail for at least one year.
In a Florida Senate Transportation Committee meeting on Feb. 2, the Florida Ports Council emphasized that cruise officials, staff, and port members from across the state are working diligently to meet a variety of requirements laid out by the Centers for Disease Control and Prevention (CDC) in order to gain access to safely set sail again in the foreseeable future.
"The shutdown of the cruise industry – it remains the only industry that is not allowed to operate in the United States. And that has a significant impact on Florida," Florida Ports Council vice president of governmental affairs, Michael Rubin told the committee. "We're trying to work with the CDC to get [these] operations back up and running… It keeps getting pushed back; I wish I could tell you a date."
Florida is responsible for roughly 60% of all outgoing cruises in the United States, but because of COVID-19 related setbacks and difficult requirements to meet, the normally booming travel industry has taken a massive hit since the CDC ordered cruising be shut down in March of 2020.
It wasn't until the final day in October that the CDC lifted the no-sail order and released the "Framework for Conditional Sailing Order" to replace it. The conditional sailing order "introduces a phased approach for the safe and responsible resumption for passenger cruises."
But lobbyists are arguing that since then, nothing has worked and keeps them at a non-sailable status.
"I think all of our ports and the cruise lines are trying to work with the CDC to say, 'Look, we're [going to] have protocols, we'll have masks, we'll sail at half capacity so we can quarantine people if they need to be quarantined,'" Rubin added.
As it stands, the Florida Ports Council serves 14 public seaports across the state.
"I'm not sure we'll have significant cruise operations until perhaps next year and even beyond that," Rubin continued. If so, the cruise industry would take even longer than originally expected to get going, spelling unimaginable job losses in an already hurt industry.
According to estimates by the Florida Ports Council, the coronavirus pandemic has affected over 170,000 jobs in the industry because of a forecasted loss of $22 billion from lost and delayed sailings.
Are you interested in Florida travel? For stories like this and much more: Florida Insider is dedicated to educating, entertaining, and informing its readers about everything Florida. Easy to read content at the palm of your hands and covering the stories that matter.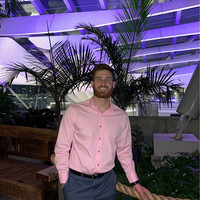 William is a South Florida native with professional experience writing at the collegiate and national news outlet level. He loves fishing, playing soccer and watching sports in his spare time and is a fan of all South Florida teams.