Courtesy: NFL Images
Was it ever in doubt that a Tom Brady led team would lose on football's biggest stage? Well, it depends who you ask.
Coming into Super Bowl LV (55), Florida's home team was a 3.5 point underdog, despite the clear advantage they had playing on their home field, the first team to ever play a Super Bowl in their host city.
The Tampa Bay Buccaneers are Super Bowl LV champions after doing what many believed would be impossible, defeating the returning Super Bowl champion Kansas City Chiefs at Raymond James Stadium in Tampa, Florida. The Buccaneers captured their second-team Super Bowl in dominating fashion against the visiting Patrick Mahomes led Chiefs with a final score of 31-9 in front of a masked crowd of 25,000 fans and 30,000 cardboard cutouts.
Tom Brady, 43, did all in his power to get a victory for the city of Tampa and delivered a career day performance that cemented him as the winningest player in NFL history with 7 Super Bowl rings, more than any franchise or player in league history. The future Hall of Fame quarterback and former New England Patriot completed 21 of 29 passes for just over 200 yards and three touchdowns, all of which were caught by former teammates of his from New England. Two of the scores were caught by long-time friend and teammate Rob Gronkowski, and the controversial Antonio Brown caught the other. Both players made the move to join Tampa after Brady had made the move to South Florida, showing an unwavering commitment to play and unite with their favorite quarterback.
The Bucs successfully dismantled the hot Kansas City Chiefs and superstar quarterback Patrick Mahomes by controlling the line of scrimmage on the defensive front and holding the Chiefs to its worst offensive performance in the Mahomes era. Despite throwing for more yards than Brady, Mahomes and company were unable to get much of anything going and failed to notch a touchdown, making it the second time in the young quarterback's career where he failed to record a score. The game was so lopsided that it became the first time in Mahomes' career that he lost by a double-digit margin.
Whether it was the signing of Tom Brady and company or not, Tampa Bay has proven that no matter how many years your team struggles in the void of mediocrity, it can all change in the blink of an eye. The win for Tampa marked the team's first appearance at the big game since they last won in 2003.
Despite playing during the pandemic, Florida showed up as willing hosts for the Super Bowl and, for the second consecutive year, hosted the world's most-watched television event with little to no hiccups.
Florida sports teams have had quite the success this year and have accounted for two championship teams and four finalists over the four major leagues: Miami Heat (NBA), Tampa Bay Lightning (NHL), Tampa Bay Rays (MLB), Tampa Bay Buccaneers (NFL). Tampa clearly had the shine and will look to continue bringing success to the Sunshine State.
Next year, Super Bowl LVI will be hosted at the all-new SoFi Stadium in Inglewood, California.
Are you interested in Florida sports? For stories like this and much more: Florida Insider is dedicated to educating, entertaining, and informing its readers about everything Florida. Easy to read content at the palm of your hands and covering the stories that matter.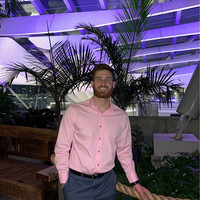 William is a South Florida native with professional experience writing at the collegiate and national news outlet level. He loves fishing, playing soccer and watching sports in his spare time and is a fan of all South Florida teams.