Courtesy: Shutterstock – photo By pisaphotography
This weekend, the Centers for Disease Control and Prevention (CDC) 'no-sail' order officially expired, allowing ships to return to sea.
However, don't expect to be onboard any time soon.
According to a release by the CDC on Friday, the "Framework for Conditional Sailing Order," which replaces the no-sail order, it "introduces a phased approach for the safe and responsible resumption for passenger cruises."
Before any passenger can board a ship, each vessel planning to service cruisers must participate in simulation sailings with only crew members and ship operators. The simulation sailings will serve the purpose of exemplifying compliance with CDC standards and proper handling and mitigation of a potential COVID-19 spread onboard.
Initial phases in the sailings will allow for ample preparation and proper procedure regarding sanitization, social distancing, adherence to testing, isolation protocols, etc.
The phases following the initial crew-only sailings will include mock voyages with volunteers such as employees and their families, much like test voyages before a new ship hits the open waters for the general public.
According to the order, each ship must earn a "COVID-19 Conditional Sailing Certificate" from the CDC before resuming passenger service.
The order reads, "A cruise ship operator must have successfully conducted a simulated voyage or series of simulated voyages demonstrating the cruise ship operator's ability to mitigate the risks of COVID-19 onboard its cruise ship."
Before any sailings can happen, crew member sailings included, all crew members on board must be tested before simulation sailings can begin.
Once onboard, crew members would conduct normal procedures while also abiding by CDC guidelines.
After announcing the potential expiration of the "no-sail" order on Oct. 8., the CDC issued a "Level 3 Travel Health Notice" advising people to "defer travel" on river and ocean cruises worldwide. Some liners have already started servicing passengers in Asia and Europe.
Last Tuesday, Gov. Ron DeSantis spoke at a press conference voicing his support for the cruise industry because of its immense economic contributions to the state's tourism industry.
Florida is home to the three busiest cruise ports in the world, according to WorldAtlas reports from 2016-2017 statistics.
In 2018, the Port of Everglades in Ft. Lauderdale reported $2 billion in total business activity from the cruising industry.
As of now, no reported mock sailings have been announced by the major cruise line companies.
Are you interested in Florida travel? For stories like this and much more: Florida Insider is dedicated to educating, entertaining, and informing its readers about everything Florida. Easy to read content at the palm of your hands and covering the stories that matter.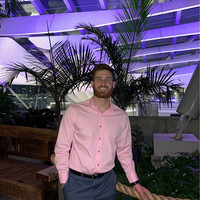 William is a South Florida native with professional experience writing at the collegiate and national news outlet level. He loves fishing, playing soccer and watching sports in his spare time and is a fan of all South Florida teams.