Courtesy: Image by jorono from Pixabay
Miami Dolphins rookie quarterback Tua Tagovailoa can now sleep peacefully after grabbing his first career NFL win in his first start.
The first-round pick kicked off his debut with an uneventful first drive, allowing a strip-sack to arguably the league's best defensive player in Aaron Donald on his second career play. From then on, Tua was sacked only once in the entire game.
But the storyline was not all thanks to Tua. After opting to start the rookie over Ryan Fitzpatrick just two weeks ago, the Dolphins seemingly signed a "death wish" if the decision did not ultimately result in more wins in the future.
The purpose of benching Fitzpatrick in favor of Tua was because they thought the rookie was ready and that he would be the "best fit" moving forward. Had yesterday not ended the way it did, many would be questioning the Dolphins' front office.
Luckily, the Dolphins pulled out an unexpected win at home against the Los Angeles Rams, thanks largely to its defensive effort.
That's right. The age-old adage of defense wins games was on full-display yesterday afternoon as the Dolphins cruised to their third consecutive victory with a score of 28-17, with all four scores coming off opposing team turnovers.
A historic day, to say the least. For the first time since Oct. 24, 1993, the Dolphins recorded a passing, rushing, special-teams, and defensive TD in a game. And Miami's total offense of 145 yards was its fewest in a win since week 14 of 2010 against division rival New York Jets and fewest yards in a double-digit victory by any team since the 2006 Chicago Bears beat the Minnesota Vikings.
"Collectively, if we don't play well in one phase, we have to pick each other up. It's his first NFL game against a real good defense. You got to take that into account, as well. But the rest of the team picked him up, and we got the W," said Dolphins head coach Brian Flores in a postgame interview.
Tagovailoa finished the game with 93 yards on 12-of-22 passing attempts, zero interceptions, and a touchdown to wide receiver DeVante Parker. The ball caught by his wide receiver was quickly recovered to the sidelines and was etched with the date 11/1 and coincidentally 1+11 (Tua and Parker's uniform numbers), marking his first career TD.
Following weeks of nonstop talk about the hype surrounding Tua, fans finally got to see the product on the field and a win, but he wasn't the star of the show everyone expected.
"Thank God we've got a good defense," said Tagovailoa. "I don't think I played to the standard of what this offense is capable of. There were certain plays where I could have stepped up and made the right throw, made the right decision. But it's good that we still came out with the win."
The Dolphins defense recorded two strip-sack fumbles, including a 78-yard fumble return for a touchdown, two interceptions, and a special teams punt-return touchdown, all resulting in eventual scores for the team.
"It was fun to be able to play a full, 60-minute game being that it was my first start in the NFL," said Tagovailoa. "We faced a really good defense. I'm proud of what we got to do offensively, and I know there's still plenty of things that we need to correct."
When all was said and done, the Dolphins got the job done, improving to a 4-3 record on the season and still well within striking distance of punching a ticket to the playoffs.
The Dolphins will now be heading to Arizona in week 9 to face the red-hot Cardinals. The game will begin at 4:25 p.m. EST on CBS.
Are you interested in Florida sports? For stories like this and much more: Florida Insider is dedicated to educating, entertaining, and informing its readers about everything Florida. Easy to read content at the palm of your hands and covering the stories that matter.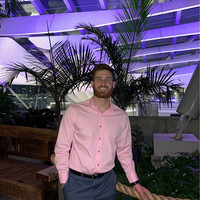 William is a South Florida native with professional experience writing at the collegiate and national news outlet level. He loves fishing, playing soccer and watching sports in his spare time and is a fan of all South Florida teams.