UFC Champion Belt – Courtesy: Shutterstock – Image by Andre Luiz Moreira
Ever since the pandemic shut down virtually everything across the world last March, nothing has really been able to get back to full-strength. Small businesses are still struggling to gain their footing, restaurants are not seeing the volume they used to, and some sporting events are still being played in bubble settings or in front of limited crowds.
But with COVID-19 cases on the downfall and millions of vaccines ready to go in the U.S., things seem to be on the up-and-up.
And it wouldn't be a party if Florida had nothing to say about the economy making a long-awaited rebound than to host the first full-capacity sporting event in the U.S. since the pandemic began.
The Ultimate Fighting Championship President Dana White took to social media to announce Jacksonville's VyStar Veterans Memorial Arena will be the host site for UFC 261 on April 24.
"WE ARE BACK! #UFC261 April 24th. Jacksonville, FL. FULL CROWD," said the announcement released yesterday by the UFC president.
UFC 261 will mark the league's return to the Sunshine State, which hosted the first three UFC events after a two-month hiatus due to the pandemic shutdowns in 2020. While it is not the first UFC event to host fans since the sports restart, it marks the first full-capacity event across all major U.S. sports since the lockdowns.
"I have been waiting a year for this day to tell you, 'We are back,'" said White. "I just want to say thank you Jacksonville, I love you guys, and we will see you soon."
The fight card is stacked from top to bottom and is headlined by some of the sport's biggest names, including Miami-native Jorge Masvidal.
White announced in his video that the event will feature three title fights spanning the men's welterweight and women's strawweight and flyweight divisions, with the main event being a rematch of the UFC 251 welterweight championship fight between Kamaru Usman and Jorge Masvidal last July.
The Return of Sports
Dana White and the promotion have successfully hosted over a dozen UFC events since the pandemic began in 2020 and have placed a significant amount of pressure on competing sports across the country to follow suit. After a few stints in Abu Dhabi, UAE in mid-2020 and January earlier this year, White has expressed his intent to host crowds in the U.S. moving forward with crosshairs set on open states such as Florida and Texas. However, Florida is really the only state that has offered up its grounds to an event of such magnitude without hesitation.
Back in May 2020, Florida Gov. Ron DeSantis welcomed the promotion to the state and allowed it to host the first major sports event since the pandemic began. The promotion will be taking advantage of Florida's lenient COVID-19 practices, which has been open for "full-crowd" events since October of last year.
Florida's current coronavirus numbers indicate a steep drop in positive cases, with the daily count dropping below 5,000 total.
The April 24th event at VyStar Veterans Memorial Arena will be held in front of a likely sold-out crowd of 15,000 fans. Tickets for the event have not yet been released but are expected "soon" on Ticketmaster.
Are you interested in Florida sports? For stories like this and much more: Florida Insider is dedicated to educating, entertaining, and informing its readers about everything Florida. Easy to read content at the palm of your hands and covering the stories that matter.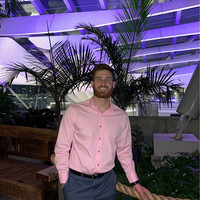 William is a South Florida native with professional experience writing at the collegiate and national news outlet level. He loves fishing, playing soccer and watching sports in his spare time and is a fan of all South Florida teams.