Courtesy: Image by Lars_Nissen from Pixabay
Museums are known worldwide to hold objects pertaining to a variety of disciplines ranging from history and art to culture and sports. Holding some of the world's most coveted art pieces and artifacts such as the Mona Lisa and Declaration of Independence is what tends to attract millions of visitors to museums across the globe annually.
According to Statista, museums and historical sites generate roughly 13 billion dollars annually from visitors in the United States alone.
A new category can be added to the likes of the Louvre in France and the Metropolitan Museum of Art "MET" in New York City— Selfies.
Make way for one of the most obscure museums in the world Florida. Joining the "Art Capital" of Miami in Wynwood is the newly opened museum dedicated to the infamous self-portrait photograph.
As defined by Merriam-Webster, the selfie is "an image that includes oneself (often with another person or as part of a group) and is taken by oneself using a digital camera especially for posting on social networks." Commonly shared on social media platforms, the selfie now claims home to an entire museum.
"Miami Selfie Museum is the first and only Instagram selfie museum in the city. Guests are provided a choice of amazing backdrops that make for spectacular photos. All they need to do is bring their phone and the desire to have a new adventure. The whole museum is a piece of art, with each room featuring great photo props and ideas from floor to ceiling," said a press release.
Oddly enough, it is not the first museum of its kind. A similar museum was erected in Los Angeles, paying homage to the millennial photo style.
"Miami has no shortage of selfie-worthy people and our Miami Selfie Museum is ready and waiting for them, young and old. We are so happy to be open, and we know our community and people who come to visit Miami are all ready to have fun with us," remarked a spokesperson from the museum.
The 3,000 square foot space opened in July and is currently accommodating people following social distancing guidelines. The museum features interactive rooms, art installations, and "awesome" backdrops that will "look great on your feed," according to its website.
Space where no one can judge you for holding up the lines or making weird faces or being on your phone on a date because everyone else is doing it.
All ages are welcome and children under 5 can visit free of charge.
Tickets can be purchased by clicking here.
For more information about the museum, visit their website https://miamiselfiemuseum.com/
Check out another one of our Wynwood art articles by clicking here.
Are you interested in Florida history? For stories like this and much more: Florida Insider is dedicated to educating, entertaining, and informing its readers about everything Florida. Easy to read content at the palm of your hands and covering the stories that matter.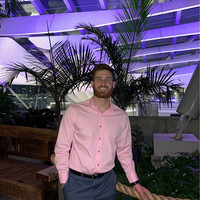 William is a South Florida native with professional experience writing at the collegiate and national news outlet level. He loves fishing, playing soccer and watching sports in his spare time and is a fan of all South Florida teams.