Courtesy: Image by skeeze from Pixabay
The Related Group, a Miami-based real estate agency established in 1979, announced that Jon Paul Pérez will be the company's new president.
Jorge Pérez, the former president of the company, is passing down the head position to his son but is still retaining his position as chairman and CEO, according to a release.
"Jon Paul has shown time, and again he has the passion and vision to carry forward what I started more than 40 years ago," said Jorge. He continued to say he reminds him much of himself in regard to his tireless work ethic that helped him define the company when he started and that Related will be in great hands moving forward.
The Related Group is known as one of the most successful condo development companies in Florida, with over $50 billion in projects and over 100,000 residences worldwide.
Some of its most famous projects include the SLS Cancún, Parque Global in São Paulo, Brazil, and the Las Olas Beach Club.
"Each of Related's developments, from affordable to luxury, are known for catalyzing growth and opportunity, and I look forward to continuing this commitment while expanding the boundaries of what a private developer can accomplish," said Jon Paul.
Since joining his father's company in 2012, Jon Paul has spearheaded expansion projects in Miami's growing Wynwood area as executive vice president. He is working on one of the largest affordable housing projects in the nation in Liberty City, Miami River, and Brickell Avenue areas.
Related Group is currently working on luxury projects such as the Solemar in Pompano Beach, Ritz-Carlton Tampa, SLS Tulum, and 444 Brickell Avenue, a three-tower development in the heart of Miami.
"I speak for the entire executive committee when I say Jon Paul is well prepared to start this next chapter. Much like his father, he's grown to become a driving force, with relentless determination to achieve his goals. But I'm most heartened to see him developing his own unique style, seamlessly channeling the firm's historic strengths into innovative directions. We stand proudly behind our new leader," said Related Group vice-chairman Adolfo Henriques.
The transition is expected to take place in November officially, and Jon Paul will be turning 36.
Are you interested in Florida real estate? For stories like this and much more: Florida Insider is dedicated to educating, entertaining, and informing its readers about everything Florida. Easy to read content at the palm of your hands and covering the stories that matter.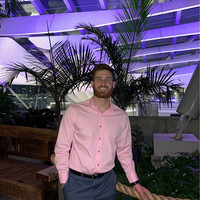 William is a South Florida native with professional experience writing at the collegiate and national news outlet level. He loves fishing, playing soccer and watching sports in his spare time and is a fan of all South Florida teams.