Dudley Do-Right Ripsaw Falls ride at Universal Studios Islands of Adventure theme park – Courtesy: Shutterstock – Image by Kamira
Last week, the Centers for Disease Control and Prevention (CDC) updated their mask mandate for fully vaccinated persons in a surprise move that will bring Americans one step closer to pre-pandemic "normalcy."
One day after the CDC released the updated mask mandate, Walt Disney World Orlando, Universal Orlando, Busch Gardens Tampa Bay, and SeaWorld Orlando made the crucial decision to drop their outdoor mask requirements at the parks.
Beginning Saturday, May 15, visitors attending Disney World and Universal Studios are allowed to walk throughout the theme parks without a mask except for when they are waiting in line, on attractions, or riding public transportation and trams.
Masks are still required indoors or when waiting to get seated at a restaurant at all Disney parks.
The timing for Universal Orlando comes at a critical moment, just as patrons are waiting to experience the big summer opening of the VelociCoaster on June 10.
"Face coverings will remain required at all indoor locations, including restaurants, shops, and indoor hotel public areas," Tom Schroder, a spokesperson for Universal, told USA TODAY. said. "Face coverings are also required at all attractions from the moment guests enter the queue to when they exit the experience."
On the other hand, SeaWorld and its sister park, Busch Gardens, are pushing the envelope even further by allowing "fully vaccinated" guests to remove their masks throughout the park. The parks have said they will not require proof of vaccination but encourage guests to "respectfully comply" and be honest.
The loosened theme park mask rules will certainly open the floodgates for more travelers coming into the busy summer months, and along with the mandate will likely come an increase in theme park capacity bookings.
Despite the updated mask mandate allowing vaccinated persons to carry on with caution as it was pre-pandemic by the CDC, the agency still recommends wearing masks in crowded indoor settings regardless of vaccination status.
Are you interested in Florida travel? For stories like this and much more: Florida Insider is dedicated to educating, entertaining and informing its readers about everything Florida. Easy to read content at the palm of your hands and covering the stories that matter.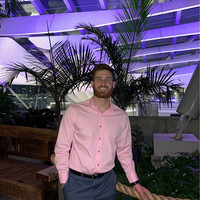 William is a South Florida native with professional experience writing at the collegiate and national news outlet level. He loves fishing, playing soccer and watching sports in his spare time and is a fan of all South Florida teams.