Courtesy: SAVOR SoFLO
Foodies rejoice! Food and Wine season is just around the corner, and what better way to ring in the second half of 2021 than with some beachside cocktails and delicious bites?
Despite being locked down all of 2020 due to the pandemic, many festivals have found ways to adapt to current-day situations regarding COVID-19 and have reopened their doors with a layer of caution and optimism.
Take the South Beach Food and Wine Festival (SOBE WFF) and the Cocoa Beach Uncorked Festival, for example. Both of these food and wine-oriented festivals traditionally host some of the largest beachside gatherings in the country for foodies of all types.
Unfortunately, 2020 forced these and similar events to be postponed until this year. But the great news is that the train has arrived in 2021, and Florida's virus numbers have seen a drastic decline from the height of 2020, which means—food festivals are back!
The show must go on, and to celebrate, we're going to highlight some of the Sunshine State's can't miss food and wine festivals for 2021.
Events to Look out for in 2021
SAVOR SoFLO Festival
Beginning with the inaugural SAVOR SoFLO Festival in Hollywood Beach. This two-day event taking place June 5-6, will feature some of the best bites and cocktails from a wide range of some of South Florida's top-tier culinary talent, along with one of the top-ranked boardwalks in America.
Making its inaugural debut in South Florida, the SAVOR SoFLO Festival will benefit the bellies of foodies who attend and the Memorial Healthcare Foundation and Glam-A-THON™.
"We are thrilled to host the inaugural SAVOR SoFLO on beautiful Hollywood Beach this summer," said Tammy Gail, festival founder, and producer. "This event comes at a pivotal time, as it gives the hospitality industry a chance to shine once again and showcase the unique culinary adventures and experiences that exist in South Florida."
All attendees will receive a limited-edition wine glass, wine glass lanyard, custom tote bag, and access to the Grand Tasting Village, a behemoth 20,000-square-foot beachside tent, where unlimited food, wine, and beer samplings are included in the ticket price.
General Admission tickets for this event start at $75 and include the unlimited tastings from 1 p.m. — 4 p.m. Optional VIP tickets can also be purchased for $100 and include additional perks such as early access beginning at noon and VIP Spirits Lounge entry featuring premium full-bar selections.
For tickets or more information on SAVOR SoFLO, visit https://SavorSoFLO.com/. Follow SAVOR SoFLO on Facebook or Instagram @savorsoflo. The event hashtag is #SavorSoFLO.
Cocoa Beach Uncorked & SAVOR ST. PETE
Up next are the Cocoa Beach Uncorked and SAVOR ST. PETE festivals.
Central Florida residents can also enjoy the fun in the sun on the east and west coast with this pair of sister events.
Brought to you by the same organizers as the SAVOR SoFLO Festival, these events will provide event-goers with a similar beachside outdoor event with some of the best local bites, brews, and wines from Florida and beyond.
Unlike the Hollywood Beach festival, these events have been a staple in the Central Florida area and look to pick back up where they left off since their one-year hiatus during the pandemic.
The Cocoa Beach Uncorked Festival will run the same weekend as the South Florida event on June 5-6 from 12 p.m. — 4 p.m. for VIP ticket holders and 1 p.m. — 4 p.m. for general admission ticket holders at just south of the Cocoa Beach Pier at Shepard Park.
Unfortunately, festival-goers will have to pick and choose on that weekend which event they'd like to attend but can double down and visit St. Pete later in the year on November 6 & 7 at North Straub Park at the same time slots as the aforementioned events.
For tickets or more information on Cocoa Beach Uncorked, visit http://cocoabeachuncorked.com/cocoa/event/. For tickets or more information on SAVOR ST. PETE, visit savortheburg.com.
Enjoying Food & Wine festivals
All festivals in 2021 will be following COVID-19 recommended guidelines from the CDC and local municipalities despite being an outdoor event and will enforce social distancing parameters.
If you've been itching to get out and catch some rays while smelling the fresh sea breeze, check out any of these three events in 2021 for a time filled with good eats and drinks for the entire family!
Make sure you are staying up-to-date with the latest and most important Florida news with Florida Insider. Whether you are interested in business, education, government, history, sports, real estate, nature, weather, or travel: we have something for everyone. Follow along for the best stories in the Sunshine State.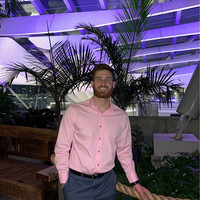 William is a South Florida native with professional experience writing at the collegiate and national news outlet level. He loves fishing, playing soccer and watching sports in his spare time and is a fan of all South Florida teams.