MIAMI BEACH, USA – FEBRUARY 26, 2017: Aerial image of the annual South Beach Wine and Food Festival along Ocean Drive. Courtesy: Shutterstock-photo By Felix Mizioznikov
Foodies… you're gonna have to wait just a bit longer for the 2021 SOBEWFF.
The annual 4-day food festival held along the sands of South Beach and the surrounding Miami area, has chosen to move the original February 24-28 weekend to May 20-23, 2021.
"Due to growing concerns over the COVID-19 pandemic, and with the well-being of attendees, partners, participants, and staff as the number one priority, SOBEWFF has decided that rescheduling the event is the most responsible course of action at this time. We know it is the right thing to do," SOBEWFF's organizers explained in a statement.
SOBEWFF organizers assured that the Miami festival will be a live event and will not take place virtually like it's sister event in New York City that took place in October. Many of the events such as the fan favorite Burger Bash were held virtually in the October food fest because of the rising cases in the city.
Festival founder Lee Brian Schrager did say that the decision to move the date was a challenging one but the new May timeline will give organizers ample time to ensure visitor and vendor safety, while also staying true to the festival's roots.
SOBEWFF will be held over the traditional 4-day, Thursday-Sunday format, but festival goers will undoubtedly encounter changes and must be made aware of them before purchasing tickets.
Events such as the Burger Bash will be spread between two different time slots, with half the capacity, and an hour gap between the time slots for sanitization and cleaning purposes.
"Normally, there are between 3,500 and 4,000 people in attendance in one session. This year, we'll have two sessions — one from 6 to 8 p.m. and one from 9 to 11 p.m. We'll also top off the event at 1,000 people per session," said Schrager.
Masks will be required by all patrons and Schrager has informed his staff of the proper procedure in the event some attendees get out of hand or disobey the mandate, "I want people to have a good time and enjoy the festival. But people will have to adhere to the rules, or they will be asked to leave."
All events will be held in open air environments to limit any potential viral spread.
SOBEWFF officials hope the Miami event will serve as a blueprint for future festivals nationwide and acknowledge that although it won't be perfect, they hope to "pave the way for other festivals."
This upcoming year will mark the 20th year anniversary of the festival, and while circumstances are different, "the soul will be the same," Schrager added.
The event draws thousands of people every year to South Florida and benefits the co-host of the event Florida International University's Chaplin School of Hospitality and Tourism Management.
A full schedule of events has not been released yet, but it is likely the traditional main events will be hosted with no drastic change.
To date, the SOBEWFF has raised more than $31.8 million for the Florida International University Chaplin School of Hospitality & Tourism Management.
Stories that matter are our priority. At Florida Insider, we make sure that the information we provide our readers is accurate, easy-to-read, and informative. Whether you are interested in business, education, government, history, sports, real estate, nature or travel: we have something for everyone. Follow along for the best stories in the Sunshine State.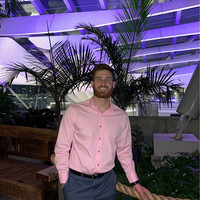 William is a South Florida native with professional experience writing at the collegiate and national news outlet level. He loves fishing, playing soccer and watching sports in his spare time and is a fan of all South Florida teams.