Courtesy: National Hurricane Center
On Tuesday, Oct. 6., Escambia County officials declared a state of emergency in preparation for the potential landfall of Hurricane Delta.
According to reports from the National Hurricane Center, Hurricane Delta made landfall early Wednesday morning near Puerto Morelos, Mexico along the northeastern coast of the Yucatán Peninsula with sustained winds at 110 mph.
Early Tuesday morning, Hurricane Delta had sustained winds of up to 140 mph, prompting the announcement. As a reminder, those sustained winds indicate a Category 4 storm.
Delta is drawing similar comparisons to another Gulf storm from 2005—Wilma.
Having formed in almost the identical spot as Wilma, Delta is in prime position to create similar unpredictable havoc given its placement in some of the warmest waters in the Northwestern hemisphere.
The emergency order began at 8 a.m. Tuesday morning and is in effect for the next seven days. As of now, no emergency evacuation order has been activated but if you do live in the area, please stay up to date with local news and state officials in the event the storm's conditions were to change unfavorably.
Although the storm has shifted slightly west since landfall Wednesday morning, the cone still has Escambia County in its crosshairs with tropical- storm-force winds and dangerous storm surge potential.
Residents of the county are still recovering from damages sustained by Hurricane Sally in mid-September of this year.
If you would like to review the local state of emergency ordinance click here.
To track the storm please visit the National Hurricane Center website for more information.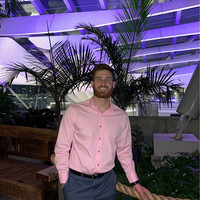 William is a South Florida native with professional experience writing at the collegiate and national news outlet level. He loves fishing, playing soccer and watching sports in his spare time and is a fan of all South Florida teams.