Courtesy: Shutterstock- Peter Acker
Fall season means a lot of things, depending on who you ask. But in Florida, any die-hard foodie will tell you one thing remains king in the heart of fall—Stone Crabs.
Stone Crab season is here for Floridians to enjoy in all its glory. Sweet, juicy, and served chilled with a side of butter is the way to go.
Oct. 15., is marked on many people's calendars as it signifies the start of harvesting season. In Florida, many will say it's a religion.
Today marks the beginning of stone crab season, but this year there are a few changes that you may notice at the dinner table or when placing an order.
So what are the changes?
Let's start with the size of the claw.
Many will say the size of the claw doesn't matter. But let's face it. Every inch counts.
This may come as good news for most.
In a July press release from the Florida Fish and Wildlife Conservation Commission (FWC), the minimum claw size harvest limit was increased from 2 ¾ inches to 2 ⅞ inches— a whopping one-eighth inch increase.
So yes, the answer is the claws being served this year will be slightly larger than in the past (not that it's a noticeable difference for the everyday eater.)
However, this results largely in part to the possibility of overfishing.
In the release, FWC went on to elaborate by saying, "Florida's stone crab fishery has experienced a long-term decline in harvest and is likely undergoing overfishing. FWC staff worked with stakeholders on these changes that are intended to increase the stone crab population and build resiliency in the fishery."
There are pros and cons to this new regulation. The pros being the obvious main reason for the limit alteration. However, the cons will likely be lower numbers in harvesting due to the COVID-19 pandemic sidelining fishermen and smaller numbers in eligible crabs to be harvested.
The second main change moving forward regards the harvesting season. Traditionally, stone crab season begins Oct. 15. and ends May 15. This year, the end date was pushed two weeks forward and will end on May 2.
Lastly, a change many fishermen have already begun to incorporate is the requirement of a 2 3/16-inch escape ring in all crab traps before the 2023/24 harvest season for undersized crabs to escape safely. And the limit on checker boxes allowed per vessel to store live crab during the measuring process is now two 3x2x2 boxes.
For the full list of regulations, click here.
So if you're a fan of stone crabs, take this as a sign to support your local restaurants this season in a safe manner. Even if you're not a fan, help out your fellow Florida business owners and fishermen by taking a friend who likes eating them and order the chicken tenders instead.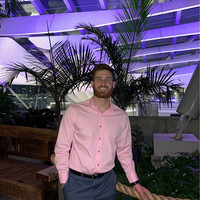 William is a South Florida native with professional experience writing at the collegiate and national news outlet level. He loves fishing, playing soccer and watching sports in his spare time and is a fan of all South Florida teams.