Courtesy: Shutterstock – Image by Gustavo Frazao
The Sunshine State was on track to post record-setting tourism numbers for state visitations in 2020, but then the pandemic happened, and those projections were derailed. In fact, according to new data from Visit Florida, the tourism industry saw an astounding but reasonably expected 34 percent drop in visitors in 2020 compared to its preceding year.
Visit Florida released preliminary data from the fourth quarter and full-year from 2020 earlier this week, exhibiting a 44.708 million difference in visitations in year-over-year (YoY) growth—marking the lowest annual total in a decade.
While the estimated 20.625 million travelers in the fourth quarter represented the third-lowest figures in the year, Visit Florida CEO Dana Young felt the numbers "exceeded our expectations." It is possible that the official count for the year may be reduced as more data is released, but for now, the count for the year stands at 86,714,000 travelers.
"Please note that due to the unprecedented nature of the COVID-19 pandemic and the impact it has had on data used to produce visitor estimates, the numbers provided below are likely to face larger-than-normal revisions as new data become available," warned the agency in a note posted online with the estimates.
The reason behind the possible over-estimation may lie within the overseas traveler estimate calculated by the state's Office of Economic and Demographic Research (EDR) Revenue Estimating Impact Conference for 2020. Visit Florida has reason to believe that the estimated 3.236 overseas visitor count overshoots the real figures by 400,000.
"Many of Florida's top origin markets were under stricter travel restrictions in Q4 than the previous quarter, but thanks to our advertising in the Southeast, visitation from those states remains strong. Visit Florida's marketing has been integral to Florida's economic recovery and will continue to propel our tourism industry forward in 2021," Young said in a statement.
Naturally, domestic travel led the data with roughly 95 percent of all visits to Florida in 2020, followed by overseas travel (mainly in Q1), and finally Canada with just over 1.2 million tourists. Exact overseas and domestic origin locations are expected to be revealed later this year in late spring/early summer.
In 2019, Florida pulled in a record-high 131.42 million visitors, placing an emphatic exclamation point on a decade-long year-to-year growth rate dating back to 2009 when the state attracted a measly 80.879 million travelers. 2020 marked the first year since 2015 to fail in surpassing the 100 million traveler target.
Pre-pandemic, the state estimated that the tourism industry supported 1.6 million jobs. According to a report from the U.S. Travel Association last week, 40 percent (four in 10) jobs lost nationwide during the pandemic over the past year were in the hospitality and leisure business.
The state Senate Commerce and Tourism Committee advanced the Florida Tourism Marketing bill (SB 778) on Monday that would eliminate a future repeal date for Visit Florida and allow the agency to rollover unused money from one budget year to the next.
"No one is going to argue that tourism is not the largest industry in the state of Florida. We live by it, or we will die by it," said committee Chairman Ed Hooper (R-Clearwater). "And whatever we can do to encourage not only the 22 million of us that travel intrastate but 131 million who hopefully will come back and visit what we have to offer and spend their dollars here, cannot be overlooked. And we will not recover economically until that piece of that economy returns to near normalcy or normalcy."
However, others have questioned the effectiveness of Visit Florida's marketing tactics and the aid it is receiving from the state to act as an ad agency.
"The role of government is not to act as an ad agency, and it should instead focus on the core function of government that society needs to operate," said Americans for Prosperity-Florida Policy Director Phillip Suderman. "Visit Florida is not one of those vital roles. The goal for government is even more important now as our nation and our state looks to move forward from the economic effects of COVID-19."
As the state looks forward to increasing its vaccine distribution, the numbers for 2021 should open the floodgates for more visitation from other states and potentially overseas. However, it is too early to predict how successful the state will be in attracting travelers this year until the first quarter numbers are released.
Are you interested in Florida travel? For stories like this and much more: Florida Insider is dedicated to educating, entertaining, and informing its readers about everything Florida. Easy to read content at the palm of your hands and covering the stories that matter.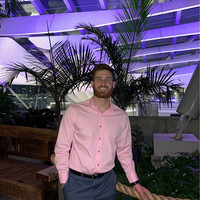 William is a South Florida native with professional experience writing at the collegiate and national news outlet level. He loves fishing, playing soccer and watching sports in his spare time and is a fan of all South Florida teams.