Courtesy: Shutterstock – Photo by Smith Sights
The Miami Dolphins improved to a 5-3 record Sunday evening after defeating the Arizona Cardinals 34-31 in an offensive shootout at State Farm Stadium.
Coming into the game, the odds were completely tilted in the Cardinals' favor. Pundits across the league had the Dolphins losing in practically every scenario and rightfully so because the Dolphins hadn't won a game at Arizona since 1996. But this isn't the team Dolphins fans were expecting before the season began.
The team has now won four consecutive games, and rookie quarterback Tua Tagovailoa is now a perfect 2-0 in his career. Miami might have found their guy after all.
Miami's defense started the game on fire with a strip fumble on the opening drive against MVP candidate Kyler Murray and returned it for the first score of the game, making it the second straight week with a defensive score for the Fins.
"It was kind of a back-and-forth game," said Dolphins head coach Brian Flores via AL.com. "They made plays; we made plays. The stage wasn't too big for him tonight [Tua]. He played well, but we had a lot guys play well – the offensive line, backs, tight ends. Everyone contributed. It was a team victory. We made plays really on all three sides of the ball, and that's what you need to win a game like that against an opponent like that."
Here's a highlight reel Tua will be sure to show his kids one day.
After a quiet first game for Tua at the helm of the offense, he came out much more lively this time around going 20-of-28 passing for 248 yards with two touchdowns and no interceptions and ran seven times for 35 yards.
And despite allowing 31 points on the board, mainly because of Kyler Murray's ability to scramble out of the pocket, the Miami secondary seemed in control yet again, proving they are a legitimate threat to make the playoffs this season.
Dolphins kicker Jason Sanders also had a terrific game, setting a franchise record for consecutive field goals made without a miss with 20 straight and marking him at a perfect 17-17 on the season.
The Miami Dolphins will now come back home to South Florida to face the Los Angeles Chargers and rookie of the year candidate Justin Herbert in week 10 on Sunday, Nov. 15.
"That was awesome," added Tagovailoa "I think it was fun for the fans as well, not just us competing… But we're going to enjoy it and come in Monday, or tomorrow we'll probably watch film with one another. We'll see what we can learn from and continue to work."
Are you interested in Florida sports? For stories like this and much more: Florida Insider is dedicated to educating, entertaining, and informing its readers about everything Florida. Easy to read content at the palm of your hands and covering the stories that matter.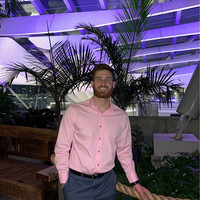 William is a South Florida native with professional experience writing at the collegiate and national news outlet level. He loves fishing, playing soccer and watching sports in his spare time and is a fan of all South Florida teams.