SAVOR SoFLO VIP Tent Lounge Area – Photo taken by William Prego
Watch out SOBE, there's a new kid on the block.
This weekend, SAVOR SoFLO Festival made its inaugural debut right in the heart of the Hollywood Beach Broadwalk in Broward County.
The two-day food and beverage event took place on the white sandy beach in front of the popular boardwalk Margaritaville Resort. SAVOR SoFLO comes just a couple of weeks after South Beach's mega-food and wine festival just down the road.
With a combination of small bites, drinks, and vendors, SAVOR SoFLO took a similar approach shared by most other food and wine festivals, with tents and individual vendors operating small booths.
Our team of writers set off to indulge and take in the views at SAVOR this weekend, and they came back with all the details.
Food and Beverage Selection
SAVOR was flooded with over 50 different food and beverage booths, but, by far, the star of the show was the beverage selection.
A slew of local breweries such as Chihuahua Cerveza, Veza Sur Brewing Co., Islamorada Beer Company, and more had tastings and full samplings across their beer lineup, a perfect combination for the hot day on the beach.
Other presenters in the beverage department included: Bacardi, Tito's Handmade Vodka, Four Roses Bourbon, Casamigos Tequila, Redemption Rye Whiskey, Skrewball Peanut Butter Whiskey, Josh Cellars wine, Justin Vineyards, and more.
Food vendors were largely overshadowed by their beverage counterparts largely because there weren't as many options. Local vendors included Noodle Station, Bolay Fresh Kitchen, Twin Peaks, Margaritaville Beach Resort, and Mastro's Ocean Club.
Two-Tier Ticketing
SAVOR successfully created a two-tier ticket system that separated VIP exclusive offerings/early access ticket holders and general admission.
The general admission tickets allowed admission into the Grand Tasting Village food and beverage tent, as well as, cooking station demo area for a three-hour window between 1-4 p.m. Here, all food offerings and brewery vendors could be accessed with unlimited tastings included in the price of admission.
VIP ticket holders paid a slightly higher premium for access into a second tent with private lounge seating, premium liquor vendors, more space, and an extra hour of service starting at 12 p.m.
By creating a two-tier limited space event, SAVOR was able to capitalize on both casual food-focused event-goers and beverage-focused clientele without meshing the two crowds in one space.
VIP ticket holders had access to both tents and could cross over as they pleased. Distinctions could be made in the crowd by spotting gold wristbands.
Location
Location is everything. Combine the sunny, sandy, and emerald green-tinted beaches along a 2.5-mile Broadwalk between Miami and Ft. Lauderdale with a food and wine festival, and you've got yourself a perennial mainstay.
SAVOR SoFLO's location choice provided a classic South Florida vibe that is distinguishable in any photo.
Patrons were allowed to walk through the tasting village tent with or without footwear—Florida casual attire was in full effect.
Safety Protocols
Just because the event was held outdoors doesn't mean safety protocols got thrown out of the window. Patrons were recommended to bring proper face protection when entering the event but were not required to keep them on.
Hand sanitization stations were plentiful throughout the tent, and disposable utensils, plates, and cups were used for all consumed items.
Staff members wore gloves and masks when serving ticket holders, and social distancing was enforced at vendor stands.
SAVOR SoFLO Place among other Festivals
With year 1 in the books for the SAVOR SoFLO team, there is much to look forward to in the years to come.
No event can be compared to one another, and it would be unfair to do that; however, SAVOR SoFLO has some things going for them early on, and that is indicative of great things to come.
For more stories like this, Florida Insider is your source for all things Florida. From real estate, to travel, to education, and more, we have it all. Easy to read content at the palm of your hands and covering stories that matter.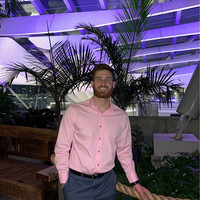 William is a South Florida native with professional experience writing at the collegiate and national news outlet level. He loves fishing, playing soccer and watching sports in his spare time and is a fan of all South Florida teams.